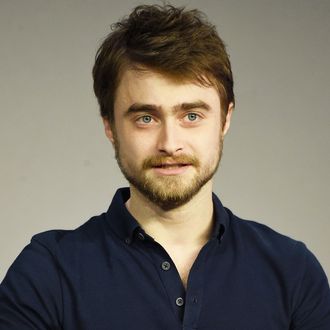 Photo: Jamie McCarthy/Getty Images
As the Harry Potter universe remains split on Johnny Depp's prominent role in the spinoff film Fantastic Beats and Where to Find Them: The Crimes of Grindelwald, Daniel Radcliffe has pointed out the hypocrisy in keeping Depp onboard. As Hollywood has cracked down on men accused of misconduct, J.K. Rowling and director David Yates have defended Depp's casting in spite of the abuse allegations brought against the actor by his ex-wife Amber Heard. When Entertainment Weekly asked Radcliffe about the casting controversy, the former Potter actor said it's a hard question to answer because he wants to be supportive of the producers and the film. Still, he recalled a time when a Potter actor's offscreen conduct got him fired from the set:
"I can see why people are frustrated with the response that they were given from that … I'm not saying anything that anybody hasn't already said — and this is a weird analogy to draw — [but] in the NFL, there are lots of players arrested for smoking weed and there is other people's behavior that goes way beyond that and it's tolerated because they're very famous players. I suppose the thing I was struck by was, we did have a guy who was reprimanded for weed on the [original Potter] film, essentially, so obviously what Johnny has been accused of is much greater than that."
Radcliffe is referencing Jamie Waylett, who played Slytherin bully Vincent Crabbe until the two-part Deathly Hallows movie, when he was fired after he was arrested for growing marijuana in 2009. Depp and Heard divorced and reached a settlement in her domestic-violence case against him in 2016. The Fantastic Beats sequel is due November 16.