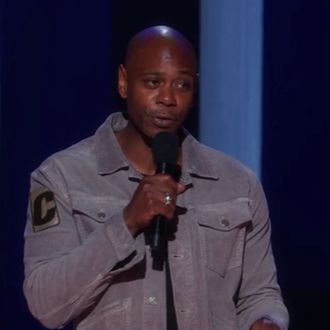 A person who believes he was anonymously referenced in Dave Chappelle's new Netflix special, Equanimity has spoken up about the experience. The fan, Tyler Foster, writing on Medium, explained his disappointment in watching Chappelle not only continue to deliver trans jokes he found to be offensive, but use his letter as a launching point to deliver other trans material.
In the special, which was released on New Year's Eve, the comedian refers to a fan letter sent to him that criticized some of his material from 2016 as being transphobic. Chappelle says that he doesn't "as a policy" feel bad about his material, but then adds, "When I read this letter, this shit made me feel bad. I didn't feel bad about what I said, you understand, I felt bad that I made someone else feel bad." He then claims he isn't sure what he said to upset the fan ("I have so many transgender jokes"), but then proceeds to tell the bit that "probably" offended the letter writer — a joke about Caitlyn Jenner contemplating appearing nude in Sports Illustrated that has the punch line "Yuck."
Chappelle also used the same bit during his Radio City Music Hall residency last summer, in a performance that Vulture's Jesse David Fox criticized for being "out of touch."
According to Foster, he wrote the letter after watching Chappelle's set in Seattle back in March 2016. Though he cannot be sure that it was his letter Chappelle is referring to, he did receive a nice reply from the comedian. Chappelle also says in the special that he received the letter in a hotel in Portland, which is where Foster sent it, though Foster notes that certain details from the story don't line up with him — though they could have been used as embellishments (Chappelle says the fan knew the fake name he uses at hotels and that the writer was trans; Foster is not).
Foster published Chappelle's reply letter: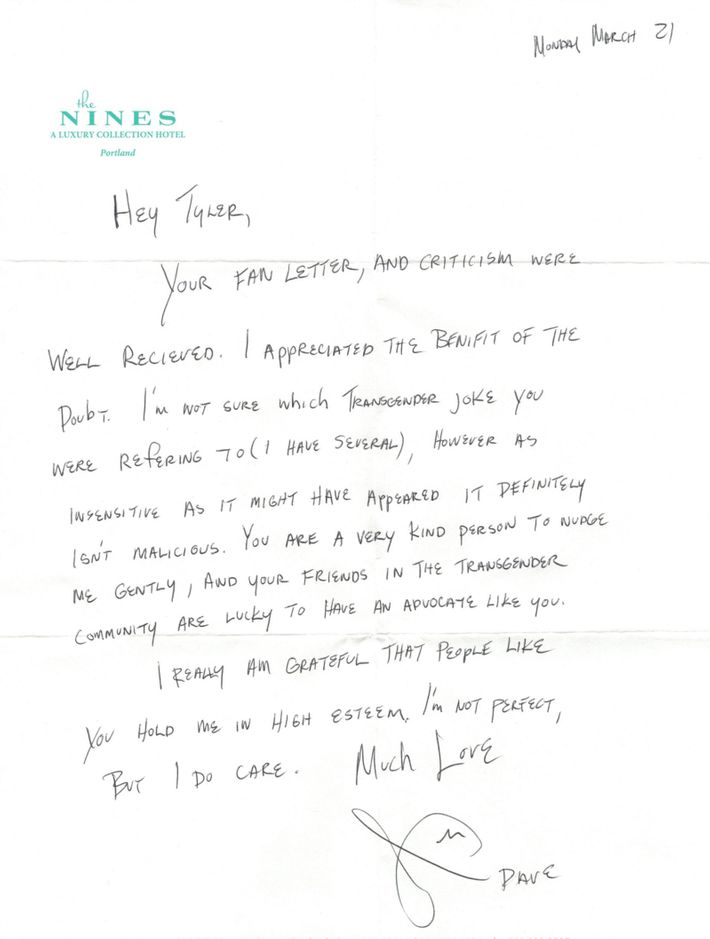 Foster writes, "At the time, I wanted to believe what Dave wrote. Although he didn't respond directly to what I had written, I hoped that my overall points had left an impression on him." However, Foster explains that he found the material in Equanimity more offensive than the set he had seen in Seattle. This is partially because Chappelle refers to the letter writer as a trans fan who is personally hurt by the material, as opposed to the reality, which is that Foster is cisgender but is friends with a trans comedian. Foster explains:
Yet, the entire segment talking about the letter was, and remains, a long set up to more of his trans material. Weirdly, the rewrite makes the bit even more dismissive, ignoring a complaint ostensibly from someone directly affected by the material rather than a bystander like myself.
Foster goes on to argue that he found the jokes needlessly hurtful, explaining that though the segment is "meant to be offensive," he does not believe it was made in service of a larger point. You can read it all here.