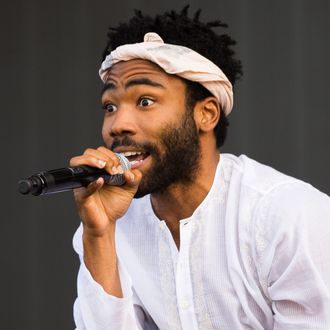 How many hours in a day does he have?
Photo: Samir Hussein/WireImage
Proving once again that not all 24-hour days are created equal, Variety reports that Donald Glover has added yet another item to his yearly to-do list. He's signed a new record deal with RCA and plans to release new music under his Childish Gambino moniker at some point this year. "It was a necessary change of pace," he said of the deal in a statement, so, really, he'll only be upping that pace from fast to dizzying. Currently, Glover's packed schedule includes running and starring in Atlanta, playing Lando in the new Star Wars spinoff, voicing Simba opposite Beyoncé in the new Lion King, fathering two children, and all the other things we won't know about until he's good and ready to fill us in. Glover previously said that he'll retire Childish Gambino after one more album, but that his music will go on under another name; since then, he's been up to something with Migos's Quavo. Until we know what exactly that is, Glover will next be seen at this Sunday's Grammys, where he's up for Album of the Year. Pace yourself, child!