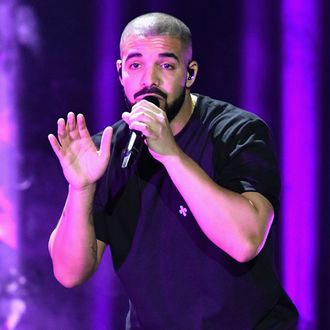 Wow.
Photo: Mike Windle/Getty Images for iHeartMedia
Streaming often shakes up the Billboard charts and that's never more true than with Drake. He recently dropped a two-song EP without warning and he's now achieved his fourth No. 1 song (though its only his second as lead artist). His new track "God's Plan" has debuted on this week's Hot 100 on top, breaking the on-demand streaming record (68 million streams), which counts paid-subscription services, and earning the fourth-biggest overall streaming week ever (82.4 million streams), behind Baauer's "Harlem Shake" (for two separate weeks) and Taylor Swift's "Look What You Made Me Do." Shortly after its release, "God's Plan" broke both Apple Music and Spotify's single-day records.
But that's not all: The other track on the EP, "Diplomatic Immunity," has also debuted at No. 7, making him only the second artist in history to debut two songs on the Top 10 simultaneously, after Ed Sheeran did it last year. Though "God's Plan" is Drake's fourth No. 1 ("One Dance" was his last), this is his first No. 1 debut. Drake waited years for his first-ever solo No. 1, initially missing out for "Hotline Bling," but now thanks to streaming metrics, it's a piece of cake. Whoever's plan this was, it's clearly working.