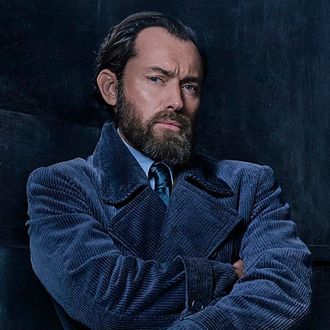 The slimmest of silver linings: This likely means we won't have to suffer through watching anyone kiss Johnny Depp in this movie.
Photo: © 2017 Warner Bros. Entertainment Inc. and Ratpac-Dune Entertainment LLC. All Rights Reserved.
In the Fantastic Beasts sequel, Jude Law's Dumbledore will apparently be young, hot, and strictly not asking or telling about his romantic interests. Speaking with EW, director David Yates said that Dumbledore is "not explicitly" gay in the film, despite the fact that J.K. Rowling has said the wise wizard was gay (though she never made that clear in the Harry Potter books, nor did it come up in the films). "But I think all the fans are aware of that," Yates continued. "He had a very intense relationship with Grindelwald when they were young men. They fell in love with each other's ideas, and ideology and each other." (Jeez, that really sounds like a love story.) Anyway, if you're hoping that Dumbledore will eventually emerge from the magical closet, then there's always the possibility that it will come up in a future installment. "As far as [Dumbledore's] sexuality is concerned," Rowling has said in the past, "Watch this space." Until then, you can just pretend that Fantastic Beasts' Dumbledore is explicitly gay, because someone has told you that, even though there's no clear evidence. It's like magic!