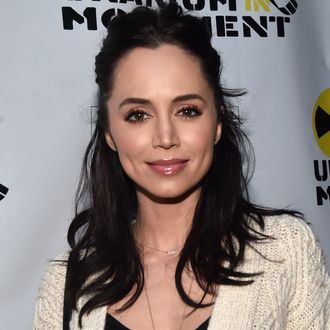 Photo: Alberto E. Rodriguez/Getty Images
Adding her voice to the hundreds of women speaking out about Hollywood's sexual harassment and assault epidemic as part of the #MeToo movement, Eliza Dushku — perhaps best know for her roles in Buffy the Vampire Slayer, Angel, and Tru Calling — is alleging a veteran stunt coordinator sexually molested her when she was 12. Writing a detailed post on her Facebook page, Dushku claims that Joel Kramer, who's worked in the industry for dozens of years, molested her while they worked together on the 1994 action film True Lies — during which time he slowly built up the trust of Dushku and her parents before the assault occurred. Specifically, he molested her in his Miami hotel room, after suggesting to her parents that he take her swimming at the stunt crew's private pool and buy her sushi for the first time:
I remember vividly how he methodically drew the shades and turned down the lights; how he cranked up the air-conditioning to what felt like freezing levels, where exactly he placed me on one of the two hotel room beds, what movie he put on the television (Coneheads); how he disappeared in the bathroom and emerged, naked, bearing nothing but a small hand towel held flimsy at his mid-section. I remember what I was wearing (my favorite white denim shorts, thankfully, secured enough for me to keep on). I remember how he laid me down on the bed, wrapped me with his gigantic writhing body, and rubbed all over me. He spoke these words: "You're not going to sleep on me now sweetie, stop pretending you're sleeping," as he rubbed harder and faster against my catatonic body. When he was 'finished', he suggested, "I think we should be careful…," [about telling anyone] he meant. I was 12, he was 36.
After the assault occurred, Dushku also claims Kramer got them a taxi to return to her parents, and during the ride he "put me on his lap in the backseat and clutched me and grew aroused again." Days later, she was badly injured in a stunt-gone-wrong while filming a scene in True Lies, which she believes was "no small coincidence." As she puts it: "Whereas he was supposed to be my protector, he was my abuser."
As to why she's only now revealing her story, Dushku simply says she was inspired by the slew of brave women who spoke out against Harvey Weinstein and other serial abusers in the industry. "Hollywood has been very good to me in many ways. Nevertheless, Hollywood also failed to protect me, a child actress," she concludes. "I hope that speaking out will help other victims and protect against future abuse. Sharing these words, finally calling my abuser out publicly by name, brings the start of a new calm."
Update, January 13: When reached for comment by the Wrap, Kramer unequivocally denied all of Dushku's claims. "Wow. That's news to me. I never sexually assaulted her. She's a sweet girl. We all looked out for her, that's surprising," he said via a phone call. "I'm just shocked. I don't know why she would say that. We took her out to dinner and we took her to our hotel for a swim at the pool." Kramer also said the stunt crew was present for the entirety of Dushku being in his company that evening, going so far as to say Dushku's memory of their encounters could "ruin my career."