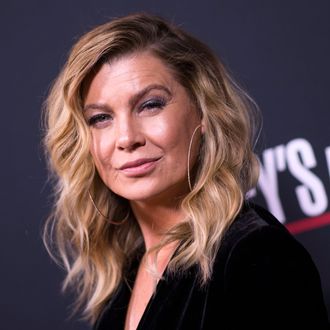 Ellen Pompeo.
Photo: Valerie Macon/AFP/Getty Images
Meredith Grey may be stuck in a continual hell of romantic tragedy and inventive medical trauma, but Ellen Pompeo is doing really, really great. Per The Hollywood Reporter, Pompeo has renewed her contract on Grey's Anatomy through seasons 15 and 16, becoming, in the process, the highest paid dramatic actress on television. Though Grey's hasn't officially been renewed past this season, and Shonda Rhimes recently signed a deal with Netflix, all signs point to a likely pick-up. The deal would get the actress more than $20 million a year in earnings, with $575,000 per episode, a seven-figure bonus, back end points on the series, as well as a producing credit on Grey's, and an executive producing credit on the upcoming spin-off.
"I'm 48 now, so I've finally gotten to the place where I'm OK asking for what I deserve, which is something that comes only with age," Pompeo said in a conversation about her new deal. "Because I'm not the most 'relevant' actress out there. I know that's the industry perception because I've been this character for 14 years. But the truth is, anybody can be good on a show season one and two. Can you be good 14 years later? Now, that's a fuckin' skill." In other words, pick me, choose me, pay me what I deserve.