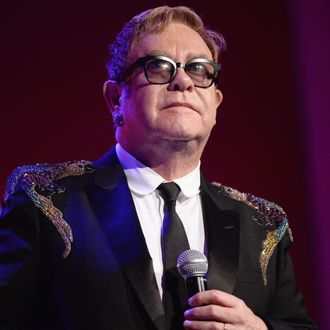 He's saying good-bye to the (yellow brick) road.
Photo: Andrew Toth/Getty Images for Bulgari
Elton John is calling it a day. But, first, he'll spend many days saying good-bye. At an event livestreamed on Wednesday, the singer announced his decision to retire from touring in 2021, saying that he will embark on a three-year, 300-date worldwide farewell tour. John explained to host Anderson Cooper that he's been touring since he was 17 and that he decided in 2015 that his priorities have changed. (He'd now like to focus his attention year-round on his husband and children.) John also said not to be alarmed, his retirement has nothing to do with any illness, though he did acknowledge that being 71 isn't conducive to the rigors of the road.
John also won't be stepping away from music completely, saying he'd like to release two more albums and would consider a residency, but has ruled out any further touring after 2021. "I don't want to go out with a whimper. I want to go out with a bang," he said of the farewell tour. "It'll be the most produced, fantastic show I've ever done." The Farewell Yellow Brick Road tour kicks off in September; watch video from his announcement below.