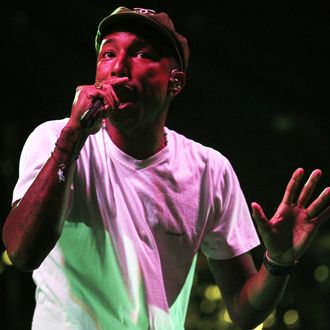 Photo: Christopher Polk/Getty Images for Motorola
Can you really be mad at Pharrell Williams? The 44-year-old producer — who could surely pass for a decade younger thanks to a dogged skin-care regimen — is one of the most consistently influential figures in modern popular music. Pharrell's production team, the Neptunes, which he formed with Chad Hugo, whom he met at a gifted students camp as a teenager, dispensed a spree of genre-collapsing hits in the early aughts that planted the seeds for the sort of cross-cultural pollination that the internet would eventually make commonplace. There was Justin Timberlake's 2002 album Justified, which solidified Timberlake as an R&B and pop powerhouse for much of the decade; Britney Spears's 2001 single "I'm a Slave 4 U," the excellent Snoop Dogg track "Beautiful," which quietly became a hit in 2003, and many, many more. To reminisce on the sound of the early-to-mid-2000s is to reminisce, at least partially, on the Neptunes.
And yet, N.E.R.D., the unconstrained idea-repository that Pharrell and Hugo formed in 2002, never seems to be taken all that seriously. Writing for Pitchfork in 2008, Ian Cohen said of the band's early acclaim that, "all those breathless 'future of music' plaudits were probably anticipating a more profound result of N.E.R.D.'s influence in 2008 than kids in tight pants learning how to pull a fakie ollie." And there are certainly reasons to bemoan some of N.E.R.D.'s excesses. For one, the band has never shied away from delusions of grandeur. A 2004 documentary for the French television network MCM featured Pharrell espousing a worldview mired in hubris. "I make N.E.R.D. for the people who think like me," he said. There is also Pharrell's default predilection toward maximalism, like on the ambitious but muddled "Anti Matter" from 2008's Seeing Sounds, which at times sounds more like a marching band falling down a flight of stairs than the avant-garde masterpiece Pharrell might have been hoping for. The song also features the cringe-inducing chant: "You can't sit still like you ADHD."
But it's difficult to see today's most influential acts as uninfluenced by the very elements of N.E.R.D.'s music that confounded audiences in the past. "Neon Guts," a standout track from Lil Uzi Vert's excellent Luv Is Rage 2, could have easily come from a mid-'00s N.E.R.D record. A buoyant drum sample snaps alongside a playful Uzi Vert and Pharrell, who exchange advice-column-esque wisdom ("You should own what you labor"), all while espousing peace and positivity ("And I got a colorful aura"). It's vintage N.E.R.D, that happens to fit 23-year-old Uzi Vert like a glove. The Soundcloud-bred emo rap stars of today, like Lil Tracy or nothing,nowhere, similarly rely on blasted-out production that feels like early 2000s hard core played over Southern trap — a fitting description for plenty of N.E.R.D. tracks. Think of the frenetic drums in 2008's "Spaz," or the oozing guitar riffs on 2004's "Fly or Die."
In the early 2000s, the two dominant genres of music — hip-hop and alternative rock — could not have existed on more isolated poles of the music spectrum, and very rarely came together with any cohesion. N.E.R.D.'s sensibility could be seen as chiefly concerned with striking such a balance. "Rockstar," the 2002 track that brought the group moderate mainstream fame (as well as one of the 2000s' more enjoyable music videos) dresses Pharrell as a passable addition to any of the popular alt-rock bands of its time; 2004's Fly or Die featured the underrated banger "Jump," which made great use of Good Charlotte's Joel and Benji Madden, who perform the song's hook, providing it with the infectious, angsty, and yearning vocals that drew hordes of teens to the band in their heyday. Both tracks, and much of the group's oeuvre, seem influential when viewed through the lens of today's landscape of almost nonexistent genre boundaries.
One of the most striking tendencies of modern popular music is its seamless integration of divergent sounds. The blown-out trap beat in Taylor Swift's "… Ready for It," the whimsical synths on Vince Staples's Big Fish Theory, the dour croon of Lana Del Rey. N.E.R.D.'s entire catalogue — ignoring, as most people should, 2010's incoherent and sonically confused Nothing — show inklings toward a sensibility that would eventually define popular music, as though the group were speaking at some sort of advanced frequency.
It makes sense, then, that their latest, No One Ever Really Dies, released at the end of 2017, is aided tremendously by its bevy of features. Rihanna delivers one of the year's most enjoyable rap verses on "Lemon," M.I.A appears in classic form on "Kite," and André 3000 pops up in that way that he does, on "Rollinem 7's," where he is as riveting as ever. In the past, Pharrell's ceaselessly adolescent songwriting could surely be seen as a liability, but today such youthfulness is much more of an asset. Pharrell's playful, if barely sensical, political musings add levity to the record, whether intentional or not, and his steadfast belief in the flexibility of genre is now common practice.
Pharrell's greatest gift is his ear for warm, emotionally resonant melodies — his 2010s resurgence got its start with the score to a children's movie — and rather than offer blistering lyrical barbs at the president — whatever that looks like — he opts for communicating exactly how today's politics feel. There's a fierceness to the record, like on Kendrick Lamar's sprawling verse on "Kites," but also a sort of optimism that explains N.E.R.D's cult popularity with younger artists of today, from Brockhampton to Tyler, the Creator. In the end, cynicism is for old people.