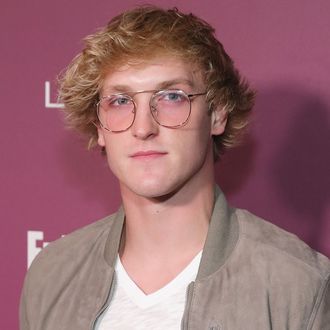 Logan Paul.
Photo: Neilson Barnard/Getty Images for Entertainment Weekly
After a year that saw internet menace Jake Paul disturb the peace both online and off, 2018 already has a YouTube scandal on its hands: this time concerning Paul's brother and fellow YouTube star, Logan. On New Year's Eve, Logan uploaded a new daily vlog documenting his Japan travels. The video included footage of an apparent suicide victim whose body he and his crew discovered hanging from a tree while exploring the notorious Aokigahara forest, known for being the location of hundreds of suicides. Though the victim's face is blurred and local police were notified, Logan goes to great pains to zoom in on the man and his nearby belongings, making a spectacle of his death. "Me smiling and laughing is not a portrayal of how I feel about the circumstances. I cope with things with humor," he says between taking shots of sake.
Despite Logan's claims that the video was meant to raise awareness about suicide, not glorify or profit from it (Logan's disclaimer explains that he will not receive any money from the video), it was met with immediate and intense criticism from his own peers in the YouTube community who deemed the video inappropriate for the site and his young following, known as the Logang. Several high-profile YouTubers — including Tyler Oakley, Lilly Singh, Eva Gutowski, the Dolan Twins, and even notorious offender PewDiePie — slammed both the video and Logan's intentions, with the backlash later spilling over into mainstream media. Many called on YouTube to penalize the star for violating its terms of service, as the streaming service has historically done to smaller channels for lesser crimes and technicalities. Actor Aaron Paul (no relation) summarized the general feeling with: "You are pure trash. Plain and simple."
Though no stranger to controversy and bad press — Logan incited a riot at VidCon 2017, among other buffoonery increasingly typical of the Paul siblings — the attitude from his fellow content creators has previously fallen on the spectrum of begrudging tolerance to feigned ignorance, with the occasional roast or harmless subliminal to break the silence. Near-unanimous public vitriol from his YouTube peers, however, is a new test for Logan, one he appears to admit that he's already failing.
Caving to pressure from those with as much internet clout as he possesses (and, in some cases, significantly more), he issued an apology and removed the video from his channel after nearly 24 hours of it being live and over 6 million views later. "This is a first for me. I've never faced criticism like this before, because I've never made a mistake like this before," he wrote on Twitter. "I'm often reminded of how big of a reach I truly have & with great power comes great responsibility … for the first time in my life I'm regretful to say I handled that power incorrectly. It won't happen again." But will it?
Beyond a public dragging, it's a mystery whether Logan or his channel (which boasts 15 million subscribers) will face any official repercussions for the video. It seems YouTube never flagged the suicide video, and the company only shared a boilerplate message to New York saying, "YouTube prohibits violent or gory content posted in a shocking, sensational or disrespectful manner." The statement suggests a "strike" could've been applied to Logan's channel had he not deleted the video himself, as it was in violation of their policy. It's also important to remember that much of the current backlash is being voiced among an echo chamber of established anti–Paul Brothers critics — even Chrissy Teigen has questioned the merits of a knee-jerk takedown, drawing fitting parallels to Black Mirror. The Logang, now reinvigorated by the controversy (and more insufferable than ever), remain committed to and defensive of their leader, viciously trolling his haters en masse. Meanwhile, in a new video apology, Logan says he doesn't expect to be forgiven.