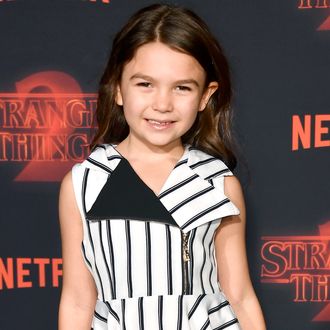 Brooklynn Prince.
Photo: Frazer Harrison/Getty Images
The plucky 7-year-old star of The Florida Project, who will soon be blowing up your awards season, is following up her sensational performance with a haunted-house thriller, The Turning. According to Deadline, the film is loosely based on Henry James's classic novella The Turn of the Screw.
Prince and Finn Wolfhard (Stranger Things) are set to play two orphans who live in a spooky mansion in the countryside. They may or may not hang out with debaucherous ghosts. Mackenzie Davis (Black Mirror) plays their nanny, who, if it's anything like the original story, will find the kids incredibly charming, even though we, the audience, all agree they're creepy as hell. Luckily there's always this video of Prince talking to her hero Daisy Ridley about Star Wars to soothe us.