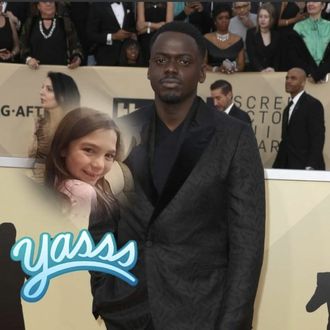 Brooklynn Prince "at" the SAG Awards.
Photo: @thebrooklynnk
Unlike her co-star Willem Dafoe, Critics' Choice Award winner Brooklynn Prince was, sadly, not nominated for a SAG Award. However, she managed to come away with an even better prize from Sunday night's show. While watching the awards, the 7-year-old Florida Project star (or more likely her mom, who operates the actress's Twitter account) tweeted a photo of Millie Bobby Brown and Dakota Fanning and lamented, "Whyyyyyy am I not in this picture???" The solution? Photoshop Brooklynn next to all her favorite SAG attendees, like Daniel Kaluuya and Nicole Kidman, in the form of a little hovering angel orb, exactly how all of us would want to experience the SAG Awards anyway. "It Me," declares one of Brooklynn's photos. In our heart of hearts, it all of us.