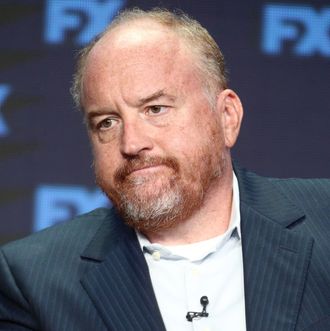 Photo: Frederick M. Brown/Getty Images
An internal investigation at FX Productions into comedian Louis C.K.'s workplace behavior while he worked there on five different TV shows has concluded and found no "issues, complaints or instances of misconduct of any kind during the eight years we worked together," FX Networks and FX Productions CEO John Landgraf announced at a press conference in Los Angeles Friday.
FX Networks and FX Productions terminated its business relationship with the comedian after the New York Times exposed C.K.'s sexual misconduct toward five women, and he admitted to the allegations in a public statement. Speaking at the Television Critics Association semiannual press tour, Landgraf said C.K. had notified him of his decision to acknowledge the Times story, but would not say if the two had a conversation about it. No one at FX knew anything about the allegations against the comedian before the Times published its story in November, he said.
"The only thing I'm aware of is a blind item in Gawker," Landgraf said. "To me, that's not an actual news source. It didn't even have Louis's name."
For the past five or six years, Landgraf said, FX Productions has demanded its employees take part in "rigorous and extensive" sexual-harassment training. "We view this as a no-tolerance workplace. We take our role, our responsibility, to provide a safe working environment for our employees, not only those who work at FX but those who work at FX Productions, really seriously. We're really diligent and really vigorous about seeking input, about investigating these things and making sure there is appropriate action and consequences taken."
One question that has lingered in the wake of C.K.'s troubles is how his absence will impact Better Things, a comedy created and produced by Pamela Adlon. As her longtime writing partner, C.K. has served as the show's executive producer, written or co-written most of its episodes, and directed episodes in the first season. Adlon, who stars in the show, was nominated for an Emmy and is nominated for a Golden Globe this Sunday night. She issued a statement in November saying she was "devastated" by the news about C.K.
"It's Pamela's show," Landgraf said. "These are her stories.
This is her life. Louis was her co-writer. She's gonna have to write them all herself or find another co-writer. But she's the font. She's the creative engine of that show. And that doesn't change. So he won't be involved any further in any FX shows, including Better Things.
But I have every confidence in Pamela. It's been extraordinary to watch her grow from an actor who hadn't directed, produced or written into an extraordinary creative force. I'm optimistic and confident the third season will be great."