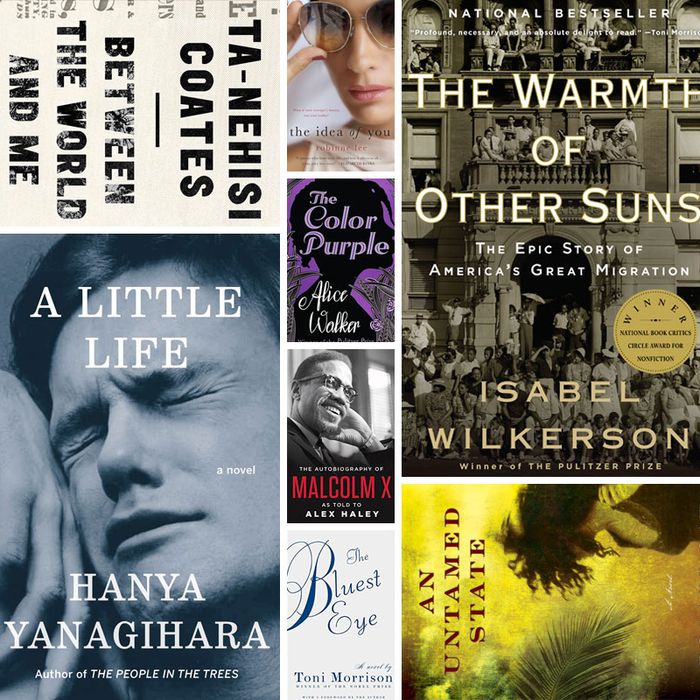 Bookseller One Grand Books has asked celebrities to name the ten titles they'd take to a desert island, and they've shared the results with Vulture. Below is actress and author Gabrielle Union's list.
Americanah, by Chimamanda Ngozi Adichie
One of my favorite novels of all time. A sweeping, beautifully told love story that spans two countries and holds the reader captive to the last page.
Autobiography of Malcolm X, by Malcolm X and Alex Haley
Based on interviews with Malcolm X between 1963 and his 1965 assassination. The book explores Malcolm X's philosophies and his evolution. I've reread the book once a year since college and have found myself just as moved each time as the first reading.
The Idea of You, by Robinne Lee
It is rare to find literature that is as entertaining and sexy as it is smart and profound. Robinne's book appears to be one thing on the surface but provides the reader a much deeper, complex, insightful journey that she will not soon forget.
A Little Life, by Hanya Yanagihara
I'm still mourning the end of this book and my time with these beautifully written characters. This book pulls you in and holds you close and you will find yourself lost in its pages and searching the streets for these characters you've been rooting for.
Fates and Furies, by Lauren Groff
A delicious novel told from both perspectives of a marriage and all its nooks and crannies, which we tend to keep to ourselves. The book spans 24 years and the reader is along for this layered roller-coaster ride.
The Color Purple, by Alice Walker
My favorite Alice Walker piece that tells the stories of black women in the South in the 1930s. If you've seen the movie, you will find the book to still be timely and relevant and painfully moving.
Between the World and Me, by Ta-Nehisi Coates
As written to his son, Coates's poignant and gripping essays tackle race in America. The book has been a great resource when having the difficult and necessary conversations about race with teens and adults.
The Bluest Eye, Toni Morrison
The first book I read as a young adult that truly spoke to me about egocentric beauty ideals and white supremacy. I saw myself clearly in these pages as Pecola searched to be seen. A powerful, powerful book.
An Untamed State, by Roxane Gay
My first introduction to Roxane Gay's writing — it changed me. I saw myself eerily and perfectly reflected on the pages of her harrowing debut novel. I finally felt understood as I sat frozen reading this book.
The Warmth of Other Suns, by Isabel Wilkerson
This sweeping piece about the decades-long migration of African-Americans who left the South for the North, Midwest, and West for better lives. This book helped me to understand my own family and offers so much information that it continues to be a much-valued resource in my house. Beautifully written and leaves no stone unturned.