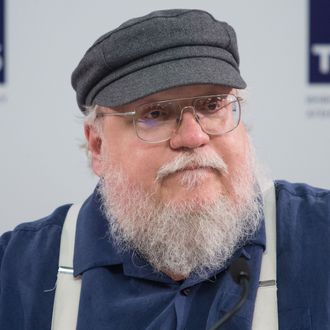 More like George Space-R. Martin.
Photo: NurPhoto/NurPhoto via Getty Images
With the end of Game of Thrones on the horizon (though really, not until 2019 and the possible spin-offs may live on for eternity), TV's started to look for a successor. SyFy's placing its bet on another George R.R. Martin book, Nightflyers, a novella he wrote before the A Song of Fire and Ice series. The network has picked up the rights to an adaptation of Martin's book, which will appear on Netflix internationally, starring Boardwalk Empire's Gretchen Mol as Dr. Agatha Matheson. The series "follows eight maverick scientists and a powerful telepath who embark on an expedition to the edge of our solar system aboard The Nightflyer — a ship with a small tight-knit crew and a reclusive captain — in the hope of making contact with alien life. But when terrifying and violent events begin to take place they start to question each other — and surviving the journey proves harder than anyone thought." If this involves killing another direwolf, so help us.