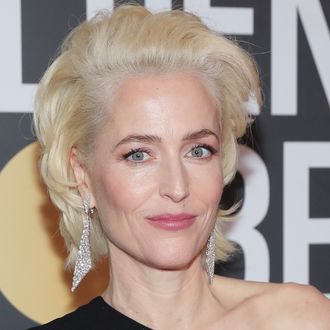 Gillian Anderson.
Photo: Neilson Barnard/NBCUniversal/NBCU Photo Bank via Getty Images via Getty Images
At an event today for the Television Critics Association, Gillian Anderson extinguished any remaining hopes that she would change her mind about returning to the role of Dana Scully on The X-Files. The actress said multiple times last year that the currently airing 11th season would be her last, and reiterated her position at the TCAs, saying definitively, "It's time for me to hang up Scully's hat. It just is." But are you, like, really sure, Ms. Anderson? "I'm finished and that's the end of that," she added, which does sound extremely clear and final, according to The Hollywood Reporter. "There's lots of things that I want to do in my life and in my career," Anderson told the audience, "and it's been an extraordinary opportunity and extraordinary character and I am hugely grateful." One of the things Anderson does not want in her life, however, is a second season of the Starz show American Gods.
Near the end of last year, showrunners Bryan Fuller and Michael Green announced they were leaving the series amidst creative differences with producers, and Anderson said today, "I'm not doing any more American Gods." Given the many faces Anderson's Media god assumed in the first season, the character turning into an entirely different person wouldn't exactly be jarring as far as continuity goes. But unfortunately for Gods and X-Files, there can only be one Gillian Anderson.