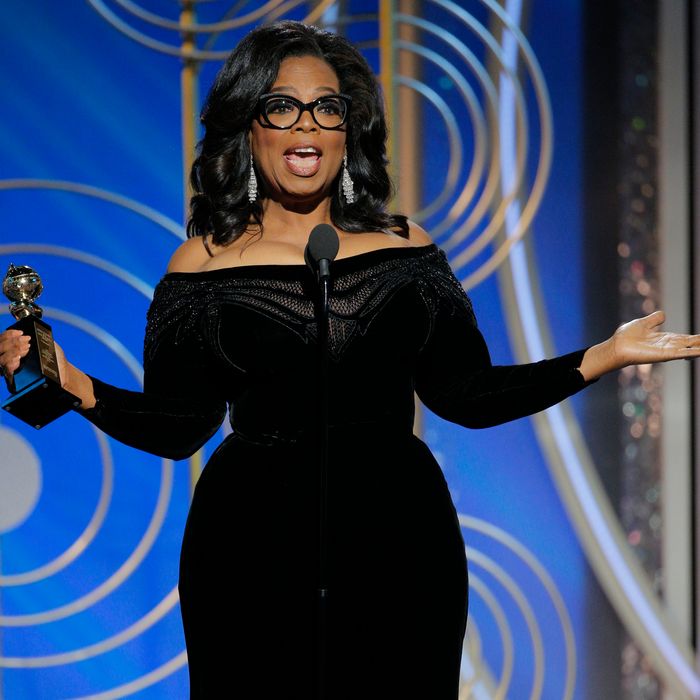 Oprah Winfrey at the 75th Annual Golden Globe Awards.
Photo: Handout/NBCUniversal via Getty Images
The Golden Globe Awards broadcast was, in one sense, an awards ceremony that honored achievements in film and television while focusing more heavily on women than it has in recent memory. In another sense, the Golden Globe Awards broadcast was an electrifying Oprah Winfrey speech preceded and followed by a bunch of trophies being handed out.
It was certainly notable that every major award announced on Sunday night went to a project centered around angry and/or marginalized women, including Three Billboards Outside Ebbing, Missouri, Lady Bird, The Handmaid's Tale, The Marvelous Mrs. Maisel, and Big Little Lies. That seemed more than coincidental in light of the sexual-assault allegations that have dominated Hollywood headlines for the past few months and the attention paid to Time's Up, a new effort spearheaded by industry women to assist sexual-assault victims and seek workplace equality for women and other marginalized populations. Still, it was Winfrey's speech, delivered after she became the first black woman to receive the Cecil B. DeMille Award, the Globes equivalent of a lifetime-achievement honor, that instantly established itself as the most memorable moment of the night.
After paying tribute to Recy Taylor, the late black activist who sought but never received justice after she was kidnapped, gang-raped, and beaten by a group of white men, Winfrey said: "She lived as we all have lived: for too many years in a culture broken by brutally powerful men. For too long, women have not been heard or believed if they dared to speak their truth to the power of those men. But their time is up."
Based on the angles captured by the cameras shooting the Golden Globes broadcast, almost everyone inside the Beverly Hilton ballroom stood up to applaud at that point. They did it again when she brought the speech to a rousing close worthy of a political-convention address. "I want all the girls watching here, now, to know that a new day is on the horizon," she said. "And when that new day finally dawns, it will be because of a lot of magnificent women, many of whom are right here in this room tonight, and some pretty phenomenal men, fighting hard to make sure that they become the leaders who take us to the time when nobody ever has to say 'Me too' again."
With their Time's Up pins and the comments made in their acceptance speeches, actresses and filmmakers told us all night what this year's Golden Globes was about. But only Winfrey made everybody feel what the moment was about. There was no way anything else in this well-paced three-hour show, confidently  hosted by Seth Meyers, could possibly surpass her comments, and nothing did.
The Globes ceremony began with a tart welcome from Meyers — "Good evening, ladies and remaining gentlemen" — and ended with a trio of awards presented by Thelma (Geena Davis) and Louise (Susan Sarandon), Angelina Jolie and Isabelle Huppert, and Barbra Streisand, the only woman who has ever won the Globe for best director, a milestone she achieved back in 1984 for Yentl.
"That was 34 years ago," she noted before announcing that the Hollywood Foreign Press had chosen Three Billboards as the best dramatic motion picture of the year. "Folks: time's up."
That was the obvious theme that ran throughout the night. But with the exception of Meyers — who made a point of acknowledging Time's Up at the end of his often funny opening monologue — the women were the ones who made a point of talking about inequality and the need to change the way Hollywood does business.
Nicole Kidman, who collected another statuette for her performance in Big Little Lies; Elisabeth Moss, who did the same for her work in The Handmaid's Tale; Reese Witherspoon, who spoke when Big Little Lies won best limited series; Frances McDormand, named best actress in a drama for Three Billboards; Greta Gerwig, who collected the best comedy motion picture Globe for Lady Bird; and Rachel Brosnahan, singled out for her portrayal of a housewife turned comic in The Marvelous Mrs. Maisel, were among those who spoke specifically to Time's Up–relevant issues, particularly the importance of more women's stories being told in film and television.
But the male winners — Alexander Skarsgård, Gary Oldman, James Franco, Sterling K. Brown, Aziz Ansari, Sam Rockwell, Ewan McGregor, director Guillermo del Toro — avoided any #MeToo commentary, perhaps because they didn't want to step on the toes of the women involved more directly in that effort. That choice particularly seemed like a missed opportunity for Skarsgård, who graciously paid tribute to his female co-stars but, as an actor portraying an abuser on Big Little Lies, could have seized the moment to say something more meaningful.
In his monologue, Meyers certainly seized the moment to lob some grenades at expected targets, including predatory producer Harvey Weinstein ("He'll be back in 20 years when he becomes the first person ever booed in the In Memoriam"), Kevin Spacey, and Woody Allen ("I have to admit, when I first heard [The Shape of Water] was a movie about a naïve young woman falling in love with a disgusting sea creature, I thought, 'Man, not another Woody Allen movie.'")
Some of his jokes landed, while other elicited "oohs" suggesting he had gone too far. "Oh, was that too mean?" he asked the after implying that Spacey's southern accent in House of Cards was deficient. "To Kevin Spacey?" The late-night host struck the right tone more often than not, and to those who think he didn't, I ask you to imagine what this night would have been like with Ricky Gervais holding a microphone in his hand. (You are welcome to counter with, "Well, imagine it with Tina and Amy at the podium." Because you would indeed have a point.)
Depending on your perspective, this year's ceremony was either: (a) indicative of Hollywood's preachy self-righteousness; (b) a refreshingly female-focused affair; or (c) like every other Golden Globes ceremony, just with a lot more uses of the phrase "Time's Up." The truth is, it was probably a mix of all of those things. But it felt more important to be paying attention to it this time around, and it was more compelling for just that reason, especially when Oprah Winfrey was the one doing the talking.