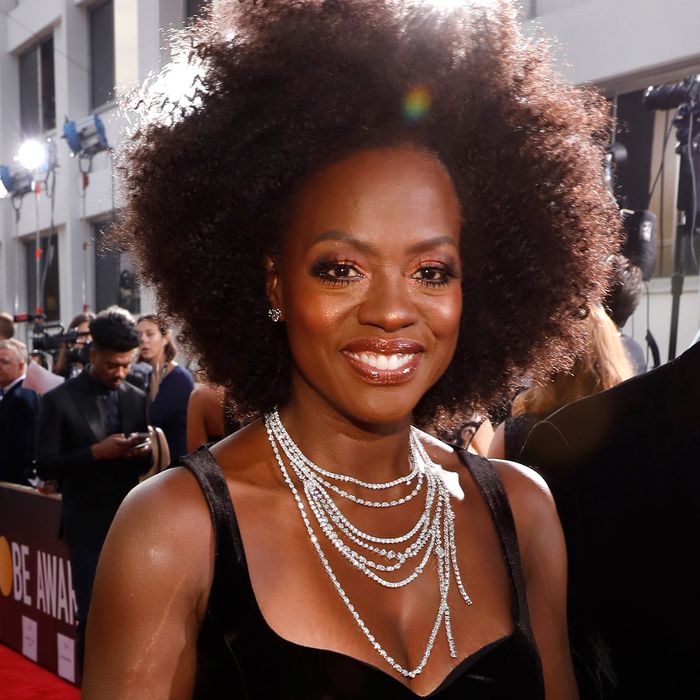 Viola Davis on the Golden Globes red carpet.
Photo: 2018 Trae Patton/NBC
The red-carpet Golden Globe shows were the television equivalent of a stylish friend who has suddenly developed a social conscience. The pre-game programming on both E! and NBC looked pretty much the same as it always does. Lots of famous people showed up in fancy gowns and allowed Ryan Seacrest, Giuliana Rancic, Natalie Morales, and Al Roker to shove microphones in their faces. But in keeping with the spirit of the Time's Up movement, an effort spearheaded by Hollywood women seeking to address sexual assault and the need for gender parity in the industry and beyond, the words coming out of their mouths were more issue-driven.
"We're not asking who are you wearing," Rancic explained at the beginning of E! Live From the Red Carpet, alluding to the fact that many of the actors and actresses were dressed in black to show Time's Up solidarity. "We're asking why are you wearing black?"
Seconds later, Rancic asked that question to Debra Messing, who responded, in part: "We want equal pay. I was so shocked to hear E! doesn't believe in paying their female hosts the same as their male co-hosts. I miss Catt Sadler, so we stand with her." That last comment was a reference to the E! News co-host who left the network because of a pay disparity with her male co-host, and also an opportunity to watch someone who is live on E! tacitly acknowledge that E! is often terrible. (Later in the E! broadcast, Sarah Jessica Parker also noted during an interview with Seacrest that these issues "have affected your network," while Eva Longoria made a point of saying, "We stand with you Catt." Unless I missed it — which is possible due to channel-flipping — no one who appeared on the NBC preshow took the opportunity to refer to that network's issues with Matt Lauer, or the fact that his Today show replacement, Hoda Kotb, is reportedly being paid far less than he was.)
This was the #MeToo Golden Globes red carpet, right down to the presence of Tarana Burke, the creator of the #MeToo movement and senior director of Girls for Gender Equity, who came as Michelle Williams's guest. Numerous actresses — including Williams, Meryl Streep, Laura Dern, and Emma Watson — brought female activists with them to walk the celeb gauntlet and use the live-TV platform to speak about their organizations and missions. This was selfless and noble, but also made for slightly awkward TV as folks like Seacrest tried to figure out how to juggle asking Dern about her role on Big Little Lies and giving space for Mónica Ramírez, her guest, to speak about sexual violence against female farm workers. As Amanda Hess of the New York Times noted in a tweet, the whole situation was both "a heartening signal about extending this movement beyond Hollywood and totally slick, weird human accessorizing."
As is usually the case, E! offered more polished red-carpet coverage than NBC, which, despite the fact that they host a Golden Globes red-carpet show every year, proceeded initially as if they just got that news ten minutes before they went live. But E! was, also as per usual, more flagrantly self-promotional, using the Time's Up moment to promote their upcoming show about Rose McGowan, one of the many women who has spoken out about being raped and/or assaulted by disgraced producer Harvey Weinstein.
The correspondents on NBC and E!, to their credit, made an obvious effort to give women the opportunity to speak first, focusing in interviews with couples like Jessica Biel and Justin Timberlake as much as or more on the woman. NBC's reporters also repeatedly stressed that the Time's Up movement was adding a "positive energy" to the proceedings, as if they could sense that too much #resistance might prompt viewers to change the channel.
"It seems like it has brought a different energy here tonight, a real positive energy," Roker said to Viola Davis on the red carpet.
"Well, that's what purpose does," Davis responded in that voice of hers that suggests she knows all the secrets of the universe. "That's what significance does. It's like someone says: There's no prerequisites to worthiness. You're born being worthy. I think that's a message that a lot of women need to hear."
Suddenly, even if you were at home snarkily livetweeting all of this, you may have been inclined to sit up a little straighter. After all, Harvey Weinstein walked this same red carpet outside the Beverly Hilton only a year ago. Twelve months later, he's gone and all these energized women in black were getting to dictate the message and focus of the coverage. That fact may not have drastically changed the way this whole flashy, glam-cam, glad-handy red-carpet operation works. But it suggested that a tiny bit of progress may have been made, and also hinted at that other P-word Davis used: purpose.