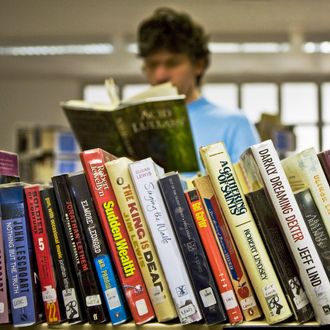 Photo: Andrew Aitchison/Corbis via Getty Images
Last month, the New York State Department of Corrections and Community Supervision rolled out a pilot program that made it much harder for prisoners to get access to books. The program restricted all packages coming into the three prisons participating in the pilot to items purchased from a list of six department-approved vendors. Books sent for free by volunteer organizations, such as Books Through Bars, a 21-year-old program that has sent close to 100,000 books to inmates in 40 states since 1996, would be banned, along with care packages from family members.
On Friday, after a flurry of critical articles questioning why the DOCCS would want to restrict access to reading, Governor Cuomo directed the department to rescind the "flawed" program. In a tweet, he said: "Concerns from families need to be addressed, while we redouble efforts to fight prison contraband."
In an emailed statement, DOCCS spokesperson Thomas Mailey added that "concerns have been raised by families of inmates regarding the availability and price of products under this program, concerns we do not take lightly." The pilot program, he wrote, would be suspended "until these concerns are addressed."
Caroline Hsu, a staff attorney with Legal Aid's Prisoners' Rights Project, said she was encouraged by the news. On Thursday, Hsu had told Vulture that Legal Aid was assessing whether to go to court over the pilot program.  "I hope, after review, the prison system will see that a vendors-only system can only be cruel and demoralizing and abandon this initiative," she wrote in an email.
In an emailed statement, Books Through Bars wrote, "We hope that this situation has brought attention to the plight of the tens of thousands of incarcerated New Yorkers who live every day without access to meaningful literature, fresh food, warm clothing, and their families.
We remain vigilant to call out and oppose any forthcoming directive that does not recognize the indigent circumstances or the real needs of the over 50,000 people who are incarcerated across New York."