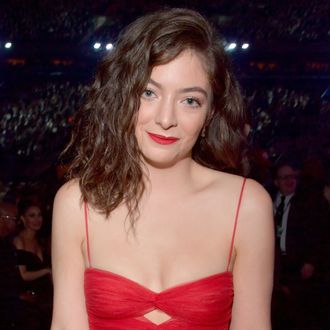 Deal with her now.
Photo: Lester Cohen/Getty Images for NARAS
Lorde was the lone woman nominated for Album of the Year at the Grammys this year and she went home empty-handed, like most women did last night. Adding insult to injury, hours before the show it was reported that Lorde was the only artist in the AOTY category denied the chance to perform solo, unlike all her male competitors. Though Lorde hasn't commented on the controversy (her mom offered some preemptive shade), she spoke through her fashion. Lorde showed up to the Grammys in a stunning red dress with a hidden message stitched onto the back (full Reynolds Woodcock style), an excerpt from visual artist Jenny Holzer's "Inflammatory Essays." It reads:
"REJOICE! OUR TIMES ARE INTOLERABLE.

TAKE COURAGE, FOR THE WORST IS A

HARBINGER OF THE BEST. ONLY

DIRE CIRCUMSTANCE CAN PRECIPITATE

THE OVERTHROW OF OPPRESSORS. THE

OLD AND CORRUPT MUST BE LAID TO

WASTE BEFORE THE JUST CAN TRIUMPH.

CONTRADICTION WILL BE HEIGHTENED.

THE RECKONING WILL BE HASTENED BY

THE STAGING OF SEED DISTURBANCES.

THE APOCALYPSE WILL BLOSSOM."
After the show, Grammys producer Ken Ehrlich attempted to explain Lorde's absence, saying, "These shows are always a matter of choices, and we know we have a box and the box gets full and filled up. She had a great album, album of the year is a big honor, but there's no way we can really deal with everybody." Deal with her now.