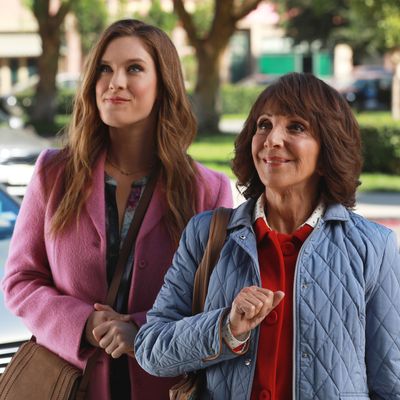 Katie (Briga Heelan) and Carol (Andrea Martin), standing for truth, justice, and journalism on
Great News
.
Photo: Jordin Althaus/NBC
On Thursday night's season-two finale of Great News, anchorman Chuck Pierce (John Michael Higgins) fought to keep his job and stay on the airwaves. Which is what Great News may need to do, too.
NBC has not announced whether it plans to renew or cancel this half-hour comedy, created by 30 Rock alum Tracey Wigfield, who also plays weather weirdo Beth, and executive produced by three more people known for their work on the Liz Lemon Show: Tina Fey, Robert Carlock, and David Miner. But it's no secret that the ratings for Great News have been unimpressive, especially compared to its NBC Thursday night counterparts, including lead-in Will & Grace.
I don't understand why people aren't watching, but I sincerely hope NBC gives Great News at least one more season. It's not necessarily a groundbreaking show — its comedy is steeped in the hyperspeed tradition previously established by shows like Arrested Development and (duh) 30 Rock. It's also not a mindforker like The Good Place or a reboot like Will & Grace and 80 percent of the shows currently being developed for television, nor is it a limited series stacked with Oscar-winning actresses or affiliated in any way with Ryan Murphy. But Great News is a consistently funny, occasionally topical, terrific comedy that had a sense of its own identity from the first second of its pilot and has never wavered from it.
It was excellent from the jump and, like its protagonist, the frazzled but determined Katie Wendelson (Briga Heelan), has continued to do reliably strong work even when that work wasn't necessarily being acknowledged for its brilliance. We need shows that are as confident in their gleeful absurdity as Great News is, especially right now, when the actual news is an hourly attempt to persuade Americans to increase the dosage on their anti-anxiety meds. (Is it possible that people aren't watching this show because they are they turned off by the word "news"? Is that what we've come to?)
Great News moves according the same rhythms as a daily newsroom: Everything happens very fast, to the point where it's tough to absorb it all. As is true of other Fey-Carlock works, 30 Rock and Unbreakable Kimmy Schmidt, some of the sharpest lines on the show are tossed off like casual asides, but are usually funnier than the high jinks lesser sitcoms spend entire episodes building toward. I laughed for at least two straight minutes during last week's episode when Carol (Andrea Martin) noted that she was wearing a blazer from "Chico's Urban Menopause collection."
In last night's finale — called "Early Retirement," which has a real cancellation-conscious ring to it — as Katie pointed to a series of TV news shows reporting the same story, she landed on one outlier: Fox, where Sean Hannity was tackling the important story "Hillary Clinton Makes Weird Face at Waiter." This was hilarious on its own, but doubly so considering that the visual gag landed on the same night that real-life Hannity tried to distract viewers from breaking news about President Trump's attempt to fire Special Counsel Robert Mueller. As the October episode about workplace sexual harassment established, Great News has a way of being accidentally current simply by displaying its intelligence and willingness to jam a thumb in various American cultural eyes.
Of course, the show wouldn't be nearly as smart without a cast as aces as this one. One of the pleasures of Great News is seeing veteran pros like Martin and Higgins, who usually play supporting roles, getting the opportunity to be the leads, while watching actors like Heelan and Nicole Richie, who plays vacuous Breakdown co-anchor Portia Scott-Griffith, fully demonstrate their comedy chops on a more high-profile stage.
But my favorite thing about Great News is its interest in generational differences and its capacity to milk them for humor without taking overly lazy potshots at the young or the old. Other sitcoms have wandered into this arena before — CBS's The Great Indoors is a recent example. But few have done it with as much inventive, equal-opportunity precision as Great News does.
Throughout both seasons, Chuck has blasted the generation coming up behind him, clearly out of fear. "One false move and they'll replace you with some hotshot young newsman who eats sriracha and drinks Lululemon," he complained in the season-one episode "Chuck Pierce is Blind." In last night's finale, though, he punched above his age, too. "[Tom Brokaw] never got a chance to say how he really felt: that the Greatest Generation was actually kinda stupid and racist."
As often as Great News mocked Carol for being completely unsavvy about technology and office life, or busted on Portia for having her head too far up her Snapchat ("I did a journalism," she cheerily announced in last night's episode), it also routinely demonstrated that both junior and senior members of a newsroom — or for that matter, any staff — bring something valuable to the table and are better when they learn from each other. The idea that Carol is working at The Breakdown as an intern at first seems like a gimmicky jumping-off point for a sitcom elevator pitch. But subtly, without ever succumbing to sentimentality — because, blech, Great News would never do that — this show has been sending the message that you're never too old to reinvent yourself, even if your Chico's Urban Menopause blazer might suggest otherwise.
The final moment of last night's season-two finale had a happy, loose-ends-all-tied vibe that smacked of a series finale. Carol even finally got a paying job, at long last, on The Breakdown, an outcome that implies that people should never give up on what they want, regardless of the obstacles that seem to stand in their way. Here's hoping NBC has that same attitude about Great News, and doesn't send it into retirement just yet.