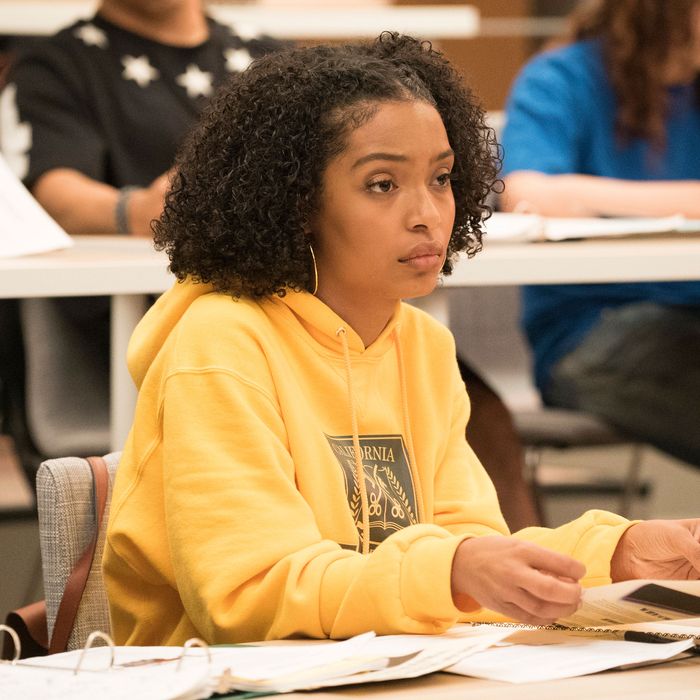 Photo: Kelsey McNeal/Freeform
Grown-ish, the Black-ish spinoff that follows Zoey Johnson to college, is a lot like its protagonist. Both are still adjusting to their independence and trying to figure out how to evolve into the best versions of themselves. Like Zoey (Yara Shahidi), Grown-ish has a lot of obvious potential, but based on the first three episodes made available to critics, it's still trying to determine how to effectively channel it.
As Black-ish has often done seamlessly, Grown-ish — which, like the ABC series that spawned it, was created by Kenya Barris — is openly interested in using the sitcom as a vehicle for exploring cultural issues. In the initial handful of episodes, the first two of which debut Wednesday night on Freeform, it addresses campus drug use and hookup culture without being too heavy-handed about either subject. Shahidi continues to bring charisma and sartorial boldness to her role as Zoey, though she's appropriately much less confident as a university freshman than she was in the Johnson household, where she reigned as the oldest and coolest of her siblings. It's interesting to watch such an assured young woman — one who regularly breaks the fourth wall to address the audience directly — begin to question her sense of self once she starts swimming in a much larger pond.
But unlike Black-ish, which still regularly delivers laugh-out-loud moments in its fourth season, Grown-ish isn't terribly funny yet, which is a problem for a show that's ostensibly a comedy. It hasn't entirely severed its ties to the ABC series, either. The first episode, "Late Registration," opens with a phone conversation between Zoey and her father, Dre (Anthony Anderson), who begs her to come home for the weekend from the fictional California University — presumably not the same California University from Beverly Hills, 90210 — so they can spend some quality time watching The Breakfast Club together. (That Breakfast Club reference pays off later in the episode, when we're introduced to the members of Zoey's developing social circle, who she describes as her own "breakfast club.")
Charlie (Deon Cole), Dre's perpetually out-to-lunch co-worker, has a more consistently recurring role on Grown-ish as the instructor of a night class on digital marketing that Zoey and her friends all take. It makes no sense that Charlie is teaching the course, which is, of course, part of the joke. But that joke doesn't add much to the series as a whole, aside from giving Cole some more room to be silly. The more time that Grown-ish spends establishing itself as something truly separate from Black-ish, the better.
The fact is Grown-ish is a different kind of show, one that can't push Freeform's boundaries far enough to qualify as edgy, but definitely delves into more mature territory. The second episode, in which Zoey finds herself becoming quasi-dependent on Adderall, offers a breakdown of all the different levels of imbibing that casually go on in college, from kids drinking jello shots to taking Oxy to snorting cocaine. While families may regularly watch Black-ish together, Grown-ish feels more targeted at and appropriate for teens and young adults.
Each of Zoey's new friends seems designed to highlight particular perspectives and experiences, so much so that it's easy to see how entire episodes could be built around each one of them. Among others, there's Nomi (Emily Arlook), the closeted gay niece of the university's dean (Chris Parnell); Aaron (Trevor Jackson), the sophomore social-justice warrior whom Zoey immediately starts crushing on; Luca (Luka Sabbat, who could easily pass for the woke younger brother of Donald Faison), an artistic free spirit who encourages Zoey to loosen up; and Analisa (Francia Raisa of Netflix's Dear White People), who transitions from being Zoey's friend to her enemy to her roommate. Analisa is the most natural and relatable of these newly created characters. Raisa and Shahidi have a nice chemistry together, and their relationship is the one that's most intriguing to track as it evolves.
Grown-ish is not a great show from the jump, but it's certainly not a bad one. Just as in college, you may need to put in a semester — that's about half a season, in TV terms — to gauge how you truly feel about the place. And that's okay. The Cosby Show spinoff A Different World, which sent Denise Huxtable to Hillman College and to which Grown-ish is inevitably being compared, went through major changes — most notably, the loss of its main character after Lisa Bonet left the show to have her own Zoë (as in Kravitz) — before it settled into what it ultimately became. Grown-ish needs more time to find its groove. But the first few episodes offer enough evidence to suggest that it has a shot.