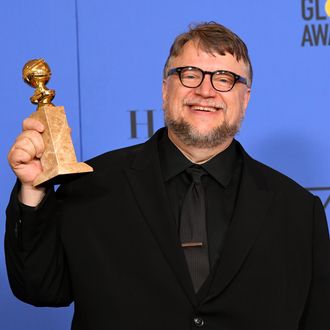 Guillermo del Toro.
Photo: Kevin Winter/Getty Images
When Natalie Portman introduced the Best Director candidates at the Golden Globes as the "all-male nominees," it inspired a bit of controversy. Onscreen, it appeared as if the directors — Martin McDonagh, Christopher Nolan, Ridley Scott, Steven Spielberg, and Guillermo del Toro — might have been a bit miffed. However, you can at least consider the smiling eye roll that del Toro gave to the camera to be a sheepish reaction instead of an offended one. The Shape of Water filmmaker and Globe recipient for Best Director told IndieWire that he approves of Portman's comment, "I think it was great! She should say exactly what she feels. There is phenomenal work being done by female directors." He then cited three films that were helmed by women directors in 2017 that could have also received award nods. "Mudbound, Lady Bird, and Wonder Woman are all terrific," he said.
If this year's Oscars are anything like the Golden Globes, hopefully del Toro will pass on the memo to his rivals. For what it's worth, Spielberg doesn't believe women will be shut out of the upcoming Academy Awards Oscars.