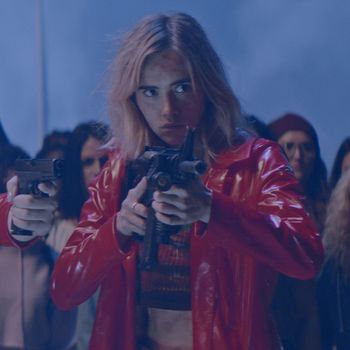 Assassination Nation
.
Photo: Courtesy of Sundance Institute.
Any cursory glance at the post-Sundance recaps coming out of the trades reveals a common theme: This year's cinema summit in Park City was an emphatically quiet one. After two straight years in which Netflix and Amazon served as the festival equivalent of mustachioed Moneybags upping the prices at an auction — helping to push films like The Birth of a Nation (2016, $17.5 million), The Big Sick (2017, $12 million), and Mudbound (2017, $12.5 million) to record-high prices — their absence as buyers this year was just as noticeable.
While both companies had films at the festival, including Netflix's A Futile and Stupid Gesture and Private Life — which made the opening-night movie a Netflix offering for the second year in a row — and Amazon's Don't Worry, He Won't Get Far on Foot, Sundance found the two streamers in a different mode than 2017, when they picked up a combined haul of titles well into the double digits. Amazon is in the midst of a bloody retooling following the departure of Roy Price in connection to sexual-harassment allegations, with Jeff Bezos's world-eating enterprise shifting from prestige indies toward more blockbuster-type fare, and Netflix has entered the next stage of its own evolution as a full-service studio, in which it continues to expand the number and breadth of titles developed and produced in-house. And it's a testament to their significance in the entertainment marketplace right now that even when they aren't active participants in a situation, their effect still feels significant.
Without those two players, we saw the acquisition market recede to something resembling the BNA (Before Netflix & Amazon) era, when sales rarely topped $10 million. Although prices didn't drop to 2014 levels — a year that saw The Skeleton Twins stand out as the festival's top seller at a mere $3.5 million — they were more in league with 2015, when Brooklyn ($9 million), Dope ($7 million), and Me and Earl and the Dying Girl ($6 million) set the pace.
The honor of most-expensive film this year belongs to the controversial, hyperbolic, and timely-to-a-fault Assassination Nation, which was acquired by Neon and Joe and Anthony Russo's AGBO for north of $10 million. The still relatively new Neon has had a mixed start to life as a distributor: co-founder Tim League has had to issue two apologies for sexual-assault allegations against collaborators, Devin Faraci and Harry Knowles, in his role as the head honcho of Alamo Drafthouse, and none of its first six theatrical releases managed to top $3.1 million at the box office. However, Neon's fortunes began to shift with the release of I, Tonya, which has managed solid grosses so far and is still expanding after earning three Oscar nominations. How Assassination Nation performs this year will further clarify whether Neon has its finger on the pulse of what's cool in indie film, or if its insider position in that world causes it to overestimate the appeal of relatively niche films.
After Assassination Nation, the most notable acquisition might be The Tale. Reviews for the complex film, which casts Laura Dern as a version of the writer-director Jennifer Fox as she delves into memories of a sexual relationship she had with two adults at age 13, have been overwhelmingly positive, and Kyle Buchanan called it "perhaps the most-talked-about Sundance film this year," with Dern a possible Oscar contender. But that picture has been altered by the sale of The Tale to HBO, sparking a flurry of reflections by analysts similar to those triggered by Netflix's activity in years past. Variety put the price for the film in the high-seven-figure range, while THR narrowed the number down to $7 million; regardless, it's a big sale, especially for this year, and most especially for a movie that will air on quote-unquote TV and compete for Emmys rather than Oscars. Of course, the distinction at this point between a company like HBO, which, despite its place in your cable package, also has a stand-alone streaming platform, and one like Netflix is increasingly meaningless; The Tale makes sense as a way for HBO to continue fleshing out its value as a well-rounded subscription service. It's certainly no weirder than Netflix hoovering up movies last year to flesh out its library, and far less weird, in many respects, than the airing of what was basically an 18-hour film featuring Laura Dern — David Lynch's masterwork Twin Peaks: The Return — on Showtime in 2017. (The vaunted French magazine Cahiers du cinéma went so far as to call Twin Peaks: The Return the best movie of the year.)
Aside from those two standouts, a few other sales are worth noting. Boots Riley's bonkers Sorry to Bother You, which Emily Yoshida wrote is "what I want out of revolution-minded cinema in 2018 — something loud, inventive, and absolutely impolite," went in the low-to-mid-seven figures to the toddler-age distribution arm of veteran producer Annapurna, fresh off its first foray into the strange art of releasing movies last year. ("We fucking love this movie!" said Annapurna, in case millions of dollars didn't convey that.) Bleecker Street acquired Debra Granik's follow-up to the Oscar-nominated, Jennifer Lawrence–launching Winter's Bone, Leave No Trace, for low-seven figures after it earned strong reviews, and they also teamed with 30WEST to nab the Keira Knightley–starring Colette for mid-seven figures.
Significant Park City presence Sony Pictures Classics, which acquired Sundance 2017's buzziest movie, the freshly minted Best Picture nominee Call Me by Your Name, before the festival even started, made its mark by taking Puzzle for $5 million; and Sony Pictures Worldwide Acquisitions spent $5 million on Search, which stars John Cho and takes place across computer screens. The much-discussed theater disruptor MoviePass took its first step into distribution by partnering with The Orchard to grab the peculiar true-crime thriller American Animals for $3 million; and America to Me, a ten-part docuseries from Hoop Dreams impresario Steve James, went to Starz for a $5 million licensing fee in what is essentially a TV sale, insofar as those distinctions mean anything anymore.
The full scope of the festival's sales are below; expect more to come, with buzzy films like Paul Dano's Wildlife, the Garrett Hedlund–starring Burden, and Grand Jury Prize Winner The Miseducation of Cameron Post still up for grabs.
HBO
The Sentence
The Oslo Diaries
The Tale — $7 million
The Price of Everything
Magnolia Pictures
Kusama — Infinity
The Guilty
Magnolia and Participant Media
RBG
Bleecker Street
Leave No Trace  — low-seven figures
Bleecker Street and 30WEST
Colette — mid-seven figures
Annapurna
Sorry to Bother You — low-to-mid-seven figures
Sony Pictures Classics
Puzzle — $5 million
Sony Pictures Worldwide Acquisitions
Search — $5 million
Heart Beats Loud (international)
Leave No Trace (international)
Saban Films and Roadside Attractions
The Orchard and MoviePass Ventures
American Animals — $3 million
Lionsgate
Neon and Shudder
Revenge
Neon and AGBO
Assassination Nation — $10 million-plus
Neon
Monsters and Men
Three Identical Strangers
Gunpowder & Sky
Heart Beats Loud
Starz
America to Me — $5 million