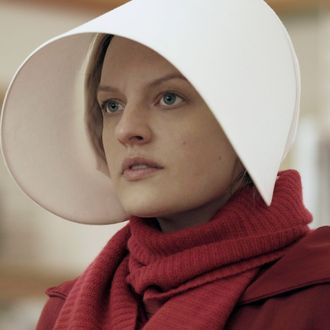 Photo: George Kraychyk/Hulu
Boosted by buzzy drama The Handmaid's Tale and a new live-TV service, Hulu ended 2017 with 17 million paid subscribers, a 40 percent surge from its last reported tally of 12 million subscribers back in May 2016. The company, which doesn't offer quarterly subscriber updates like rivals such as Netflix, also said overall audience of various Hulu programming is on the upswing, with 54 million unique viewers at the end of the year, up from 47 million last spring. Although Hulu isn't releasing specific audience data, the company did offer some insights into which of its offerings rate best with subscribers. Spoiler alert: Content from Hulu's broadcast network co-owners did very well.
Hulu's three most-watched dramas in 2017, based on number of hours watched, were, in order, Law & Order: SVU, This Is Us, and The Handmaid's Tale. The streamer's top-three comedies were all animated: South Park, Family Guy, and Bob's Burgers. (Interestingly, Seinfeld, off the air for decades, was among Hulu's top most-popular comedies, with 65 million hours watched by users.) SVU and This Is Us come from NBC, whose parent company Comcast is one of Hulu's owners. Similarly, Hulu co-owner 21st Century Fox is behind Bob's and Family Guy. Fox recently announced plans to sell its stake in Hulu to the Walt Disney Company, which is already a partial owner of the streamer. The deal, if approved, would give Disney controlling interest in Hulu. While the Fox shows would stay on Hulu if the deal goes through, there's a chance Comcast could divest itself from the partnership if Disney takes control, leading to the company pulling shows such as This Is Us. It's far too early to know exactly things will play out with Hulu and its various owners, but the viewing stats released today underscore how important content is from its various network partners.
As impressive as Hulu's growth has been over the past 18 months, the service is still way behind dominant streamer Netflix, which has a domestic subscriber tally of 53 million and counting. Still, Hulu does have some advantages over Netflix: It spends significantly less on content (and thus has less debt), its catalog of 75,000 episodes is more than twice as large, and it also generates money from advertising. In fact, Hulu says it collected $1 billion in ad revenue in 2017, a record haul for the streamer. Hulu is also wringing more money out of at least a sliver of its subscribers through its live-TV service, with some subscribers paying upwards of $50 per month to get live feeds of broadcast and cable networks and access to a cloud DVR. A Hulu spokesperson said the company was not yet ready to break out exactly how many of its 17 million subscribers are paying for the live service.