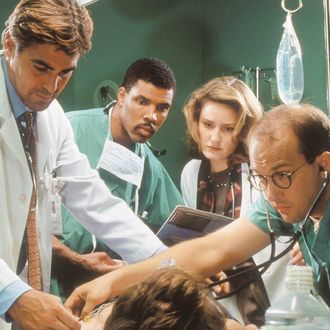 ER
.
Photo: Warner Bros. Television
If you were looking for a new show to binge-watch so long you end up in the ER, have we got some satisfying news for you: NBC's hit medical drama ER is now available on Hulu. Created by author Michael Crichton, the series follows the doctors and medical staff at Chicago's fictional County General Hospital from 1994 to 2009. The show won 23 Emmys, earning a record-breaking 124 Emmy nominations in total.
"It was such an honor to be a part of this show. I was lucky to have worked with so many writers, actors and directors all at the top of their game," George Clooney said in a statement to Variety. "Most importantly I've made friends for a lifetime. I'm excited it will finally be streaming on Hulu." Soon, all 15 seasons of the show that gave the world George Clooney will finally be available for your streaming pleasure. Okay, technically the lesser-known 1978 historical fiction mini-series Centennial gave the world George Clooney, but after watching all 331 episodes of ER in a row, all non-ER information will be forcibly pushed from your brain. Happy streaming!