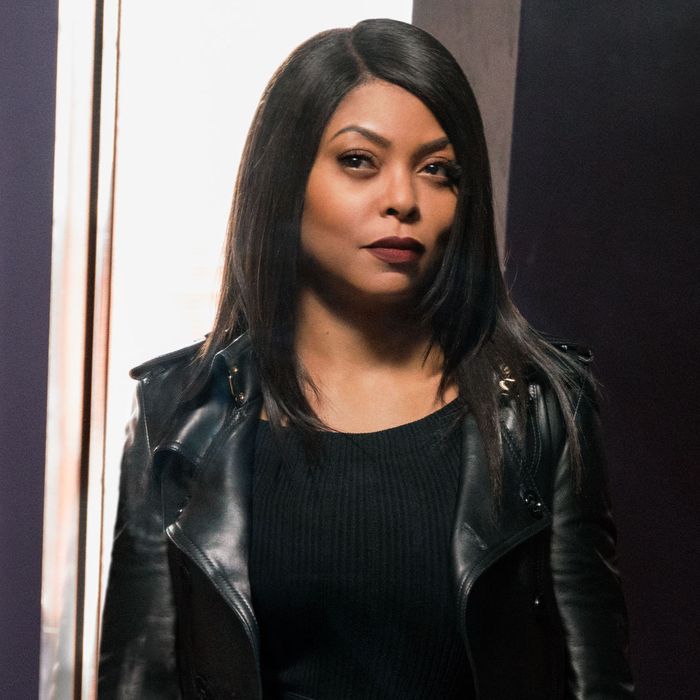 Taraji P. Henson in
Proud Mary
Photo: Dana Starbard/Sony/Columbia Pictures
Despite generating a wave of online excitement when its gunplay-packed trailer debuted last summer, Proud Mary will slink into theaters Friday as something of a mystery. The action-thriller starring Taraji P. Henson as a badass, wig-wearing, Maserati-driving assassin for the Boston mob hasn't been screened for critics or even reporters attending its press junket by the studio's genre division, Screen Gems.
Directed by Babak Najafi (best known for the Gerard Butler action flick London Has Fallen), Proud Mary is an obvious homage to '70s blaxsploitation movies like Cleopatra Jones and Foxy Brown, and provides a showcase for one of today's most popular African-American actresses in a stand-alone star vehicle. At least superficially, it's one of the most woke mainstream movies to emerge in the wake of the #MeToo and #TimesUp movements. From even the most cynical financial standpoint, now would be a smart time to get behind a female-fronted action movie. So why is Sony so determined to withhold Proud Mary until its theatrical debut?
According to a high-ranking former Sony executive, the genre division has a long history of keeping their movies from critics in an effort to bolster their bottom line by avoiding negative reviews. "Lots of films they handled similarly have opened very well and gone on to be pretty decent crowd-pleasers, disconnected from the bad reviews that followed," the executive says. "But also, let's be honest, Proud Mary is not likely very 'critic friendly,' or they would be all about the word of mouth."
Exhibit A: The last Taraji P. Henson movie that Screen Gems released, No Good Deed, provoked a mini riot of movie-journalist uproar after its press screenings were canceled just hours before they were scheduled — allegedly to preserve the film's last-act plot twist. The net effect? Pissed-off critics tweeting things like "No Good Deed goes unscreened." But even with no small number of withering reviews, the $13 million home-invasion thriller ultimately grossed $52.5 million at the box office to qualify as a sleeper hit.
The studio has seen mixed results releasing titles over the years and across various genres without first screening them for critics — 2006's The Covenant, Resident Evil: Retribution (2012), and Prom Night among them. In 2013, the horror remake Carrie wasn't prescreened, then barely managed to break even on its production costs upon release. Meanwhile, the 2015 romantic-thriller The Perfect Guy racked up $60 million (on a $12 million production budget) despite not being prescreened for reviews.
But on social media and even within critical circles, Proud Mary's withholding has aroused suspicions of covert racism that have long plagued the movie industry (oftentimes rightly so). "Is this a case of a studio underselling a black film as is customary in Hollywood?" wrote Ira Madison III in the Daily Beast. "Black Twitter irate about lack of promotion for Taraji P. Henson's 'Proud Mary'" reads a recent headline on Rollingout.com.
For its part, Sony points out that the majority* of Screen Gems' film library is comprised of titles prominently featuring people of color — and the majority of those movies were screened for critics prior to their theatrical rollouts. The studio also insists there's no shame in their game when it comes to Proud Mary. "Not screening for critics happens regularly for Screen Gems films," says a spokesperson for Sony. The spokesperson also points out that the studio hasn't skimped on advertising: "There's a ton of promotion around the film. Awareness is at a high 92 percent. Taraji [is] all over doing publicity; she did eight talk shows in two days. Marketing is everywhere across all platforms."
For all the studio's denials, however, some film fans are simply suspicious because of the movie's release date: January is well known to be a cinematic dumping ground for Hollywood's least-commercial fare and lowest-quality output. "[A] little less 'Sony is burying Proud Mary because it has a black female lead,'" tweeted Nico Frank Sprezzatura, "and a little more 'Sony is burying Proud Mary because it's coming out in January and not screening for critics so it's probably bad.'"
This post originally contained an exact figure that has since been called into question.