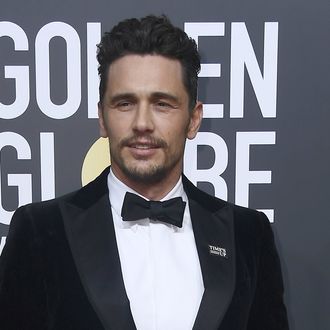 James Franco.
Photo: Frazer Harrison/Getty Images
Like many of his peers, Golden Globes Best Actor winner James Franco turned up to the ceremony Sunday night wearing a Time's Up pin in support of the night's anti-sexual-misconduct message. Actress Ally Sheedy, however, found the actor's mere presence at the event, much less his win, upsetting enough to comment on.
"James Franco just won. Please never ask me why I left the film/TV business," the Breakfast Club actress lamented in a series of since-deleted tweets, a screenshot of which you can read below.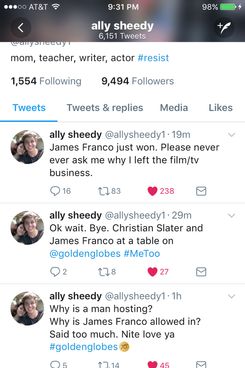 Franco once directed Sheedy in an Off Broadway production of The Long Shrift, but there is no indication her statement is connected to that experience. The Cut has reached out to the actress for clarification, which, if provided, will also be added to this post.
Others on Twitter found themselves discussing a different Franco-related topic, specifically the actor's attempt to get with a 17-year-old via social media. In the widely reported 2014 story, the same year he directed Sheedy, Franco contacted the teen through Instagram after meeting her outside his Broadway show Of Mice and Men. He allegedly offered to rent a room to spend time with the "almost" 18-year-old, who later published their exchange online.
Franco subsequently went on Live With Kelly and Michael and acknowledged he had messaged the girl, saying that he was "embarrassed" and that "social media is tricky." Said Franco at the time, "I used bad judgment." In the wake of this fall's sexual-harassment reckoning in Hollywood, however, some people are now wondering if "bad judgment" still holds water as an excuse.