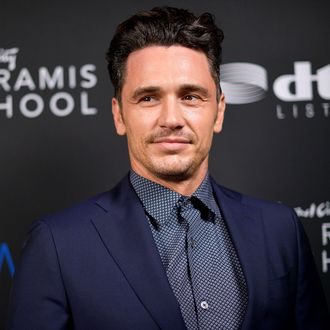 James Franco.
Photo: Matt Winkelmeyer/Getty Images
Once upon a time, a woman named Zola told Twitter her story: It was a tale of sugar daddies, Florida, and the phrase "vibing over our hoeism or whatever." Pre– Golden Globe win, James Franco was signed on to direct and star in a film adaptation of the infamous Zola story. But in the age of #MeToo, Hollywood is shying away from overtly sexual material, according to a new report in The Hollywood Reporter. The trade reports that Bradley Cooper's A Star Is Born remake is being recut, and the Hugh Hefner biopic once attached to Brett Ratner seems permanently on hold. The would-be stripper saga — originally set to begin production next month, with Franco merely producing — now seems like it too may be put on the back burner. Per THR:
And lit agents and managers, who typically have their finger on the pulse of what is in demand at the majors, are telling their clients, "Not now," when it comes to overtly sexual material. … Even the indies — long the bastion of edgy material — are getting skittish. A24 was poised to begin production in February on a $5 million James Franco-produced stripper/prostitute travelogue titled Zola Tells All (complete with a 15-year-old Russian prostitute), but it is currently described by an A24 spokesperson as "in development."
Is the delay on Zola Tells All because Hollywood is skittish about appropriate behavior after the sexual-harassment reckoning? Or is because of drama surrounding Franco currently: The New York Times canceled an event with the actor after multiple women accused him of sexual misconduct following his Golden Globes victory. Franco addressed some of the allegations with Stephen Colbert: "The things that I've heard that were on Twitter are not accurate, but I completely support people coming out and being able to have a voice, because they didn't have a voice for so long," Franco said. "I don't want to shut them down in any way. I think it's a good thing and I support it." We'll see how this one develops.