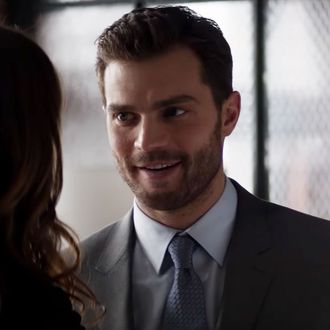 May this franchise never end.
Photo: Universal Pictures
There have been riding crops, floggers, blindfolds, Ben Wa balls, and a whole treasure trove of BDSM devices with which Christian Grey has used to sexually torture Anastasia Steele. But it turns out, they were all just an endurance test, the buildup to the final phase of her erotic awakening. In Fifty Shades Freed, Ana will have to withstand the pain and sweet suffering of Christian serenading her. The track list for the Fifty Shades Freed soundtrack (starring Rita Ora) has been announced and, lo and behold, one of its bonus tracks is Jamie Dornan covering Paul McCartney's "Maybe I'm Amazed." Director James Foley tried to warn us, claiming last year that Dornan "is an incredibly good singer — he sang a lot on set. He sings in three, but it's a surprise." We'd be even more surprised to learn that Ana consented to this, too.
The greatest shock here might be that this isn't Dornan's first musical performance. Forever frozen in time lies the relic of the early aughts that is Dornan's folk duo Sons of Jim — named so because he and his bandmate had dads named Jim — who once opened for KT Tunstall, but disbanded in 2008. In their heyday, they performed a song called "Fairytale" on an Irish talk show which introduced Dornan as a well-known former "partner of Keira Knightley." There's no maybe about it — we're truly amazed.