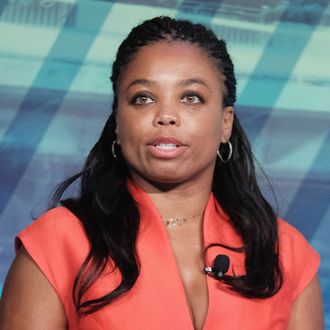 Jemele Hill.
Photo: D Dipasupil/Getty Images for Advertising Week
Jemele Hill is switching teams: The SportsCenter anchor is exiting the show's 6 p.m. hour to write for the Undefeated, ESPN's sports culture site. According to The Hollywood Reporter, Hill's last day on SC6 will be Friday, February 2, two days before the Super Bowl. Michael Smith will host the show on his own. Hill is one year into a four-year deal with ESPN, and will write for the Undefeated and host town halls, THR reports.
Hill was suspended for two weeks in October over tweets about the NFL. In September, the White House called for Hill's firing after a tweet she wrote calling Donald Trump a white supremacist. She spoke about the message to NPR's Code Switch this month: "I think time and place are everything. And I don't think that that's necessarily an opinion to be shared on Twitter."
Update: In a statement posted to her Twitter, Jemele Hill addressed rumors surrounding her SportsCenter departure. "I asked to leave the show — some of y'all probably need to read that sentence again — because of a strong desire to return to reporting, writing, and commentary," Hill said, adding thanks to her co-host Michael Smith and the SportsCenter crew.