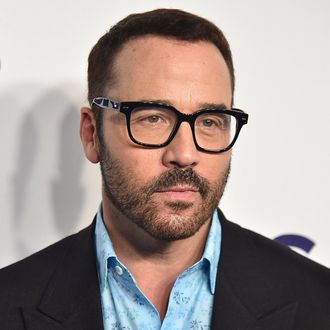 Photo: Theo Wargo/Getty Images
Following multiple allegations that Jeremy Piven has a long history of sexually inappropriate behavior, three more women have come forward claiming they, too, were on the receiving end of various instances of sexual misconduct by the actor. Speaking with BuzzFeed News, the women recounted their interactions with Piven, which spanned over the course of a decade. Susan McCain Olson, a former background actor who met Piven on the set of Lucas in 1985, says Piven followed her into a trailer during a day of filming and forcibly pinned her down on a couch; he then climbed on top of her and began kissing her. "At one point I kind of was like, 'This is it, this is where I'm going to get raped,'" she said. "I kept trying to push him away. I was like, 'No, get off me.'" McCain Olson was eventually able to push him off the couch and run out of the trailer, and chose not to tell anyone at the time because she was "just an extra" who didn't want to lose her job.
Years later, another woman — who chose to remain anonymous to BuzzFeed — met Piven while he was shooting a film in Montreal in the early '90s. After chatting at a hair salon, she agreed to give Piven a tour of the city, and when she arrived at his hotel to meet him, the front desk instructed her to go to his room. When she stepped inside, Piven allegedly pinned her against a wall and tried to kiss her. "I didn't want to stick around to find out what else was going to happen," she said, adding she was able to leave the room almost immediately. "[T]his was a little more violent than the other things that have happened to me. To have somebody force themselves on you like that, it made me feel very uncomfortable and grossed out."
Shortly thereafter, another woman, Diane Gonzalez, claims she was on the receiving end of a distressing sexual encounter with Piven. Gonzalez says the duo met when she was doing extra work for Ellen in 1996, and after sharing dinner and drinks with Piven and other crew members, they headed back to Piven's home for what began as consensual sex. However, she soon became upset when Piven "grew more forceful" in the bedroom, exceeding her level of comfort. "I think the threat was just how aggressive and how strong he became as he was holding me down. I just didn't want it to get any worse," Gonzalez said. "I'm just thankful I kind of got out there when I did." When she was able to remove herself from Piven's grasp and leave, she claims he responded by being "very condescending, very belittling" with her.
When reached by BuzzFeed News for comment, Piven vehemently denied all of the women's claims. "These allegations, which in one case goes back more than 30 years and the two others more than 20 years ago, are false. As evidenced by the lie detector test I took and passed, I have never forced myself on anyone, nor have I ever exposed myself or restrained anyone against their will," Piven said. (Piven previously took a polygraph test to dispel previous allegations against him. The examiner of the test said Piven had passed.) "To the contrary, if any woman ever said no, I stopped." With these women's stories, the number of public accusations against Piven has gone up to eight.