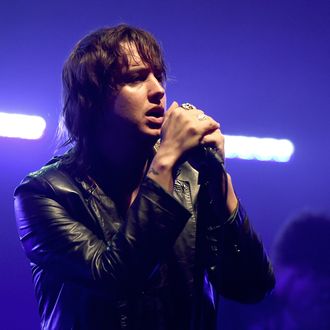 Photo: Kevin Winter/Getty Images
If you're hoping for a big, public beef, Julian Casablancas is not the guy to pick a fight with. Speaking with Beats 1 (per Pitchfork), the singer addressed the alleged conflict between him and Ryan Adams that was included in Lizzy Goodman's juicy Meet Me in the Bathroom, an oral history of early-aughts NYC rock.
In an interview with Goodman for the book, Strokes guitarist Albert Hammond Jr. claimed that Ryan Adams gave him heroin, which upset Casablancas. "I remember Julian threatening to beat Ryan [Adams] up if he hung out with me, as a protective thing. He'd heard that Ryan would come and give me heroin, so he was just like, 'If you come to my apartment again with heroin, I'm going to kick your ass.'" Hammond also said that Adams was "definitely a bad influence."
The Strokes front man did not necessarily refute this narrative during his Beats 1 chat, but he also did not admit to any threats against Adams. Casablancas said, "Did I specifically tell Ryan to stay away from Albert? I can't remember the details, to be honest. I think heroin just kind of crosses a line. It can take a person's soul away."
Adams, meanwhile, denied ever giving Hammond heroin, but he did get a few digs in at his alleged former foe. According to Stereogum, Adams posted a few since-deleted tweets at the time of the book's release, mocking both Strokes members. "Julian Casablancas: who got you strung out on lasagna tho," he wrote.
Twitter barbs and tell-alls aside, Casablancas told Beat 1 that he does not wish to continue rehashing the past. "Even the Ryan Adams thing — I just feel like … I'm not aware … I mean, I might've been the one who did it," Casablancas said. "I just feel like I wouldn't blame him for anything anyone else did." He added, "The whole feud thing — I'm so not into that."