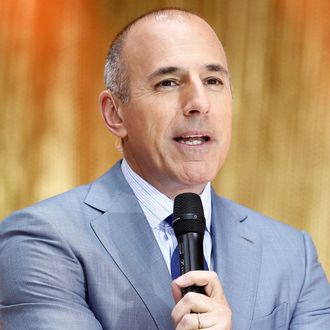 Photo: NBC NewsWire/NBCU Photo Bank via Getty Images
Today, we rejoice! The wonderful Hoda Kotb has been promoted to join Savannah Guthrie as co-anchor of Today, permanently replacing Matt Lauer in wake of his sexual-misconduct scandal. (Kotb will also remain in the fourth hour with Kathie Lee Gifford, sipping Pinot grigio and generally being merry. Truly the best of both worlds.) And while viewers can speculate all they want about the internal drama at NBC that lead to Kotb's hiring, Gifford wants to assure everyone that Lauer likely couldn't be happier about the decision.
"The whole thing with Matt is not something we want to get into. We love this man and we are heartbroken about him being gone," Gifford told People in this week's issue. "Our sense of joy is tempered by our sense of loss. The best way to say it is that it's a bit bittersweet. Nobody wants to profit off of someone's pain. But this is reality. It's a business, and someone has to move on. Matt would be the first to congratulate her and wish her well." We know it's only January 2, but #SavannahHodaTODAY might be the hashtag of the year.
Update, January 2: Gifford was right. Speaking with Entertainment Tonight, Kotb revealed Lauer did indeed send a message to congratulate her for her new Today gig. "I did hear from [Matt], yeah," Kotb said. "He texted me and he said congratulations and some really nice words, and it meant the world when I saw the text pop up. My heart just went like, you know, it meant the world to see that." Kotb also said that although she still considers Lauer to be a good friend, she's currently reevaluating their relationship in light of his numerous sexual-misconduct allegations: "So, it's complicated when you are surprised by revelations, but you still care deeply for somebody who's a friend. I think for all of us, we've just been trying to navigate through that, with straightforwardness and honesty and integrity."