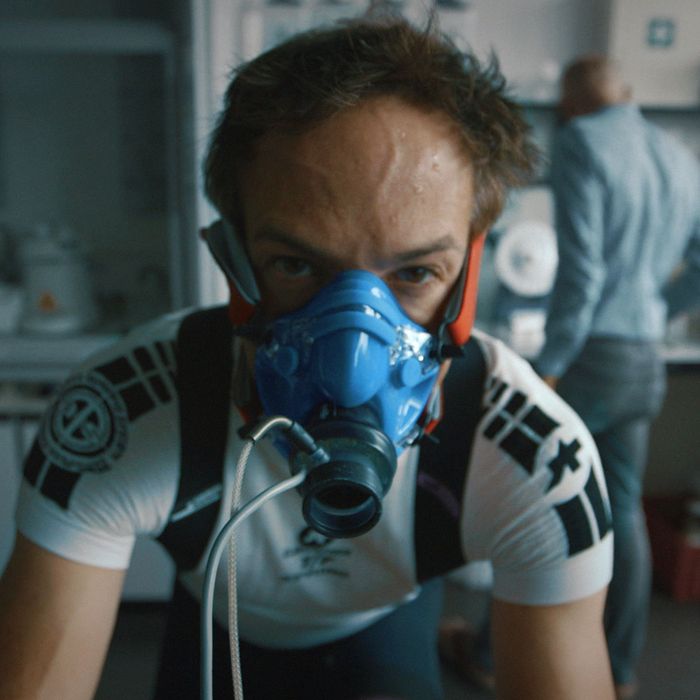 When you watch Icarus — the masterful 2017 documentary in which one of the subjects unexpectedly blows the whistle on widespread, state-sponsored doping among elite athletes in Russia — it's hard not to be reminded of Lance Armstrong. The doping program that helped Armstrong win seven Tour de France titles was exposed in 2013 to be the most sophisticated one the sports world had ever seen; as such, the doping program exposed in Icarus is like the "hold my beer" response. And you know who else is reminded of Lance Armstrong while watching Icarus? Lance Armstrong himself.
At a screening of the film on Saturday evening at New York's 1 Hotel Brooklyn Bridge, Armstrong hosted a panel discussion alongside director Bryan Fogel and producer Dan Cogan, moderated by Philip Gourevitch. Armstrong, in his opening remarks, said he'd just watched the film a few weeks beforehand, after being asked "thousands of times" if he'd seen it. "I was blown away. I was truly, truly blown away," Armstrong said. "I thought I'd seen a lot, but this was next level."
Fogel's documentary was originally meant to be a sort of stunt-based investigation into athlete drug testing, in which Fogel himself, a lifelong serious cyclist, would undergo an Armstrong-style doping program during an amateur race with the help of an anti-doping scientist. His intent was to get away with it, and in so doing, prove just how inadequate anti-doping agencies' testing systems are. Except the documentary took a hard, unplanned left turn partway into filming: The gregarious, kooky director of Russia's anti-doping agency, who Fogel had enlisted as his personal doping guru, came under investigation by the World Anti-Doping Agency (WADA) and decided to expose Russia's widespread, state-sponsored program of systematic doping among Olympic athletes to Fogel and his camera.
When Armstrong watched Icarus, he said, he found he shared some common emotional experiences with the Russians who orchestrated and underwent extensive doping procedures — specifically around the part where they got caught. Several scenes of Fogel's documentary depict what happened when he and Grigory Rodchenkov, the Russian whistleblower, took Rodchenkov's testimony and evidence to WADA, the International Olympic Committee, and the New York Times.
I can relate to the way [it feels when] the press reacts to things like this … My situation five years ago, when [the findings of the Armstrong doping investigation] came out, the organizations — USADA, WADA — I'm not trying to criticize them, but the declarations they made were pretty strong. The 'biggest fraud in the history of sport,' the 'most sophisticated doping program that ever existed,' 'forcing young men to put deadly substances into their bodies.'
"We don't need to debate whether or not those are true, but those are strong statements," Armstrong continued. "And this is where I can relate to Russia: You watch the press [get the story] and you watch these guys who took it to the New York Times — even I read [the Times story in 2016 exposing a state-sponsored Russian doping program at the 2014 Olympics in Sochi], and I was in complete shock, but I knew what was going to happen. The next day, WADA stands up, they have a commission of guys to investigate, and then nine months later they had that press conference. Where it's like, We've got 'em."
"So not to sympathize with or to condone," Armstrong said, "but I can relate. I certainly can relate to them."
"So it's like when you're looking at Russia, you're looking at yourself," Gourevitch prodded.
"Uh," Armstrong paused. The audience laughed, Armstrong laughed, and after a beat, Armstrong demurred: "I'm … just glad to be here."