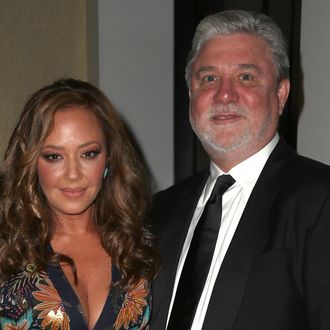 Photo: Frederick M. Brown/Getty Images
Earlier this month, filmmaker Paul Haggis was accused of multiple instances of sexual assault and harassment, with one woman asserting the Crash screenwriter allegedly raped her after a film premiere in 2013. Haggis denied the assault allegations, telling the Associated Press through his lawyer that he "didn't rape anybody." Now, Leah Remini and her A&E Scientology and the Aftermath co-host Mike Rinder have published an open letter supporting the director, suggesting both that Haggis has been unfairly judged without due process, and that the Church of Scientology may somehow play a role in accusations made against him. Remini, Rinder, and Haggis are all vocal former Scientologists; the director appeared this past fall on the pair's docuseries, which focuses on former church members' experience with the organization.
In the letter, published to Rinder's website on Monday, Remini and her co-host vouch for the screenwriter's character. "Paul Haggis deserves, based on his record as a gentleman and humanitarian, to be judged when all the evidence has been taken under penalty of perjury in a court of law," they assert. "Because claims of anonymous accusers who have NOT gone to law enforcement are not credible." Publicist Haleigh Breest accused Haggis of the 2013 rape in a December lawsuit. Haggis denied the claim and countersued, calling her story "extortion" and alleging she approached him for a $9 million settlement to avoid the allegation going public.
Their letter goes on to point a finger at the Church of Scientology for the allegations made against the director, and apparently any hypothetical future ones as well. "We expect the next 'revelations' about Paul Haggis in this campaign to destroy him to be based on information culled from his scientology files in the form of more 'anonymous' accusers, hiding behind a lawyer who will never have to disclose who is paying their bill," Remini and Rinder claim. "Those who accuse without going to law enforcement, those who seek hush money to keep their stories secret, those who make accusations to the media anonymously — they are suspect. And when the target of these tactics is someone who is a prominent critic of scientology, it is very suspect." His accusers, meanwhile, have reportedly denied any involvement with Scientology.