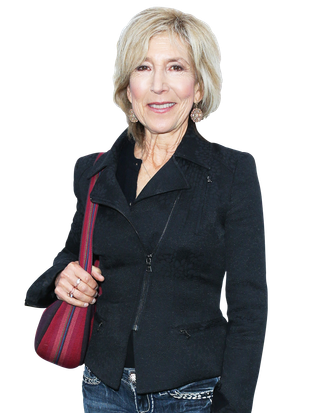 The worst idea the Insidious franchise ever had was killing off Lin Shaye, who plays the spirit medium Elise Rainier, in the very first movie. Fortunately, though, creators Leigh Whannell and James Wan understood that — and they spent the next three movies making her a bigger and bigger part of the narrative. In The Last Key, out Friday, Shaye finally gets a movie fully devoted to her character, complete with an origin story of her abilities, and some tender family drama. Once again working alongside her faithful companions Specs (Whannell) and Tucker (Angus Sampson), Elise must go all the way back to her own beginnings to take on her most, er, insidious spirit foe to date. Vulture sat down with Shaye before the movie's release to talk about the unexpectedly long-term employment opportunity of playing the spirit medium, how she's managed to amass nearly 200 roles over her 40-year career, and what it feels like to finally be playing the hero. (But we definitely do not refer to her as a character actress.)
I rewatched the first Insidious recently and I had straight-up forgotten that Elise dies. I guess I blocked it out.
Yeah. And really dies.
There is not a post-credits sequence where you come back, and the sequel is built on your death. So between parts one and two, or maybe two and three, did Leigh or James call you and say, "We've made a huge mistake. We're sorry." Or did you know Elise's long game from the outset?
No. We didn't know. We thought we were making one movie. There was no grand scheme about a franchise or hope this goes forward. They made a movie. We hoped it was a good movie. I remember at the very end, James had said to me that they threw around if I should die or if I shouldn't die. Because he was thinking, What if something comes around and we want you back? But the deed was already done, so then when they decided to do the second one, I am in the Further. I am a ghost in the second one, and it's kind of a continuation from the first one, so I think they thought that was going to be it again. And then when the numbers panned out and everybody thought, "Okay let's go for another one," that was when the idea of the prequels came forward. And I loved the third one actually.
I actually thought the third one was the scariest.
I thought it was really scary, too.
I watched it to refresh my memory, and the demons in that one, the images in the Further, were more frightening.
It wasn't really written that she was an agoraphobic, but when I saw the setup I said to Leigh, "What if she's not just at home? What if she's closed her curtains, stopped working?" She is in a suspicious, lonely vein, having not been able to deal with the death of her husband. So I think that ended up being a very strong setup for seeing where Elise could go in terms of her own pain, basically, and the way she very slowly comes back out of herself, because she wants to help this girl find her mother. So that was a surprise! And when we figured out we were going to do the fourth one, Leigh came over to my house and started talking, and none of it is per se in the fourth one, but what he did so skillfully is he created a backstory that was very different from the backstory I thought, to be honest. As an actor, I always try to build the before story, which informs the present in films, so I always thought Elise was an only child, and she spent a lot of time by herself, which then allowed these visitations that came to her. But as we all know, Leigh built a very different background, which I think ended up being a whole lot stronger, because to see who she becomes later — which is this very positive, strong woman — it kind of shows that you can have terrible beginnings and still pull yourself out to become a good person. The story itself is really poignant and I think has a really nice message.
And on the topic of arcs, it sounds like building the Insidious franchise has been a totally unexpected journey, and the character you had seen in your head ended up different onscreen than you had imagined her starting out eight years ago. Also, you have this career that has spanned decades and literally hundreds of roles —
Yeah. Who was that? How did I do that?
No, but how did you do that?
I don't know! I think the only answer I really have is, I never thought about being an actress. I really never did. But I've always been an actress!
And a prolific one.
But I've always been a storyteller. When I was little I had very few children in our neighborhood — and I had an older brother who didn't want anything to do with me, of course — and I would entertain myself [telling] stories out loud. I would make up stories with my animals, and in school I liked being in the plays. I auditioned for the plays and never got the lead. I would always get these little parts. I was an art history major at the University of Michigan, and I got my first job in art history at the Metropolitan Museum in New York, in the registrar's office in the basement, when I just remember thinking, "So when do I get to be in the next play?" And it literally dawned on me, "There's a profession called acting!" So I applied to three graduate schools in theater. Columbia University had just started a theater arts program, and I got into that, so I went to school in New York for three years in Columbia's theater program. I'm a member of the Actor's Studio and I studied with [Lee] Strasberg and [Uta] Hagen and Stella Adler — all the greats. I really have a wonderfully rich background.
You have amassed almost 200 credits since your screen career started in the 1970s, but now that you've become the face of a franchise worth hundreds of millions of dollars, does this feel like reaching a destination that you had been working towards? Or was there no destination in mind at all?
I love working, but I never had a goal of being in Los Angeles and working in the film industry. But I am having the best time ever, and the best part of it is, all these people who I had no idea even knew my name or — forget my name — knew anything about me at all, are involved in the stories I've been allowed to tell. As an artist, it's like people seeing your paintings. If you're in any form of art, you kind of do it in your bedroom and you don't realize, if it gets out there, how it feels for other people to appreciate what you've done. So I'm just filled with gratitude and awe over this whole thing.
I feel like I'm getting better every time I work at what I do. So I don't think I've arrived anywhere yet. I think I'm still on the train, and I hope the train maybe never arrives at the station … What I have gained is confidence about myself. I just know better now how to tell a story, and Leigh was saying earlier today that I'd go, "Elise wouldn't say that!" And I'm not afraid to do that, because I know she wouldn't, because at this point I know probably more about her than anyone else.
Last year I interviewed Jason Blum and asked him if he would ever make a superhero movie out of Blumhouse, and he said he'd make any kind of movie as long as it's cheap. But then he added, "Lin Shaye is my superhero."
[Audible gasp] Thank you for telling me that! That is such a great thing for me to hear!
Do you still feel like you're pushing against the label of character actress?
I still feel it's a false designation. I think every actress is a character actor. That's Hollywood BS. The labeling system is not my cup of tea. Unless you're playing yourself in a movie, you're playing a character! So doesn't that mean you're a character actor? Anyway, I detest that label. I think it's false. [Puts on a nasally voice] "You're a leading lady or you're a character actress." Well, I guess I'm both!