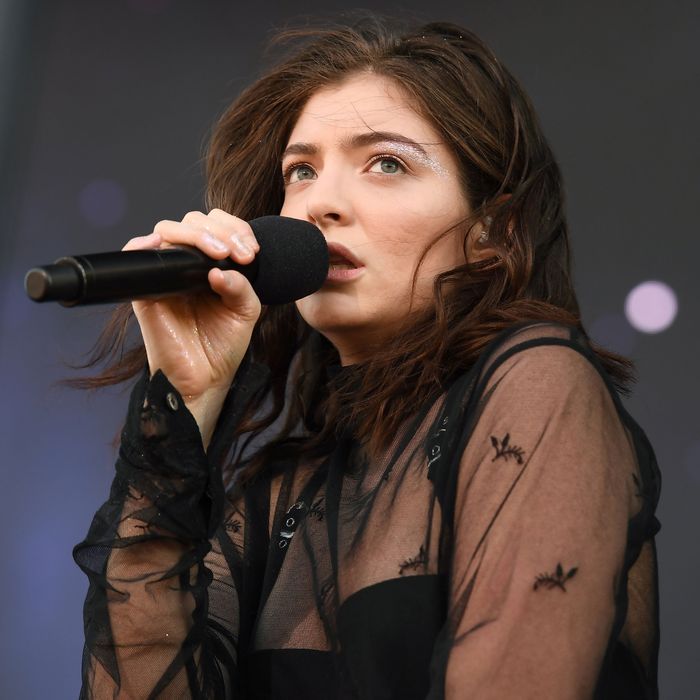 Photo: Angela Weiss/AFP/Getty Images
On Christmas Eve, Lorde announced that she would cancel an upcoming concert in Israel. Since announcing the Tel Aviv show, she had been flooded with complaints from supporters of a Palestinian movement to boycott, divest from, and sanction Israel for its ongoing military occupation and illegal settlement of the West Bank. Since its 2005 founding, the BDS movement has slowly picked up traction over the past decade. Elvis Costello canceled a concert in 2010, as did Lauryn Hill in 2015. Over the last summer, Roger Waters, a BDS supporter, publicly berated Radiohead for continuing to play shows in Israel, calling out Thom Yorke for his unwillingness to hear out Brian Eno, among others. Michael Stipe posted support for Yorke over Instagram. After reading up on the issue, Lorde had found the argument for a boycott convincing and acted accordingly, thus casting herself into the center of a vexed and divisive debate.
Just how vexed and divisive was something she could only learn the hard way. Her Instagram comments were overrun with diatribes. Roseanne Barr spent a day tweeting her displeasure at Lorde's decision and retweeting the displeasure of others. The final touch came on New Year's Eve, when a full-page ad appeared in the Washington Post. Purchased by a Hasidic rabbi and media personality renowned for his relentless self-promotion (going so far as to brand himself "America's Rabbi"), the paid content describes Lorde as a racist. By boycotting Israel while continuing to play shows in human-rights-abuse hub Russia, Lorde was subjecting the Jewish state to a double standard and thus exhibiting a textbook case of anti-Semitism. "21 IS YOUNG TO BECOME A BIGOT," blared the text.
Is Lorde a bigot? The answer may surprise you. She's certainly denying her live presence to her Israeli fans on account of the actions of the Israeli state while refusing to do the same for fans who are citizens of states that aren't renowned for treating the people they control with basic dignity — not just Russia, but the United States, which incarcerates more people than any other nation on Earth and subjects its black population, and others, to relentless, unwarranted suspicion, invasion, and brutality. If principles take precedence over profits, why isn't she boycotting the United States — which, after all, with its staunch diplomatic backing for Israel and tens of billions of dollars in Israeli foreign aid, is the primary reason Israel can sustain its extremely unpopular and incredibly costly occupation to begin with?
That can certainly look hypocritical. But it would only be racist if Lorde were equating all Jewish people with the Israeli state without making any distinction between them, which she isn't doing at all. It's not racist to single out a state for brutalizing Palestinian subjects and occupying Palestinian land if that state is the only state in the world brutalizing Palestinian subjects and occupying Palestinian land. Whatever else she might be for boycotting a concert in Tel Aviv, Lorde isn't a bigot.
To be completely fair, hypocrisy and racism are hardly incompatible with one another. One only has to examine the case of the fame-thirsty rabbi, whose anti-Lorde Post advertorial was largely adapted from a column he wrote for Breitbart two days prior; the rabbi has also smiled for a photo with Steve Bannon and called Bannon "a great, stalwart friend of the Jewish state." It takes an exceptional, perhaps even miraculous, belief system to frame a thoughtful, decent pop star as an anti-Semite while giving Breitbart's chief a soul kiss, but miracles abound when you're America's Rabbi and Trump is America.