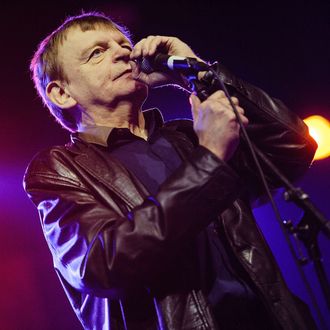 Mark E. Smith.
Photo: Matthew Eisman/Redferns via Getty Images
Mark E. Smith, lead singer of Manchester post-punk band the Fall, has died at age 60, his partner and the group's manager Pam Van-Damned announced on Twitter on Wednesday. No cause of death was given, though Smith had been in ill health for some time, performing from a wheelchair during his final string of concerts. Born to a working-class family in Salford, Smith formed the Fall after attending the famous 1976 Sex Pistols concert at Manchester's Lesser Free Trade Hall, the same show that is said to have inspired members of of the Buzzcocks, Joy Division, and the Smiths. He would be the only constant of the band's 40-year career.
With Smith at the helm, the Fall was marked by punk's trademark aggression, a fierce devotion to repetition, and a distinctly working-class sensibility. As The Telegraph put it last year, the band "belched like a dirty chimney through the drab skies of British culture." Smith would later blame Tony Blair for the lack of working-class artists in contemporary music, telling the NME, "The posh dads don't say to their kids any more, 'Don't be in a group.' They see U2 and they're saying, 'Be in a group, make money.'" Smith played his last show with the Fall in November; the band had previously been forced to cancel its scheduled February shows due to his poor health.