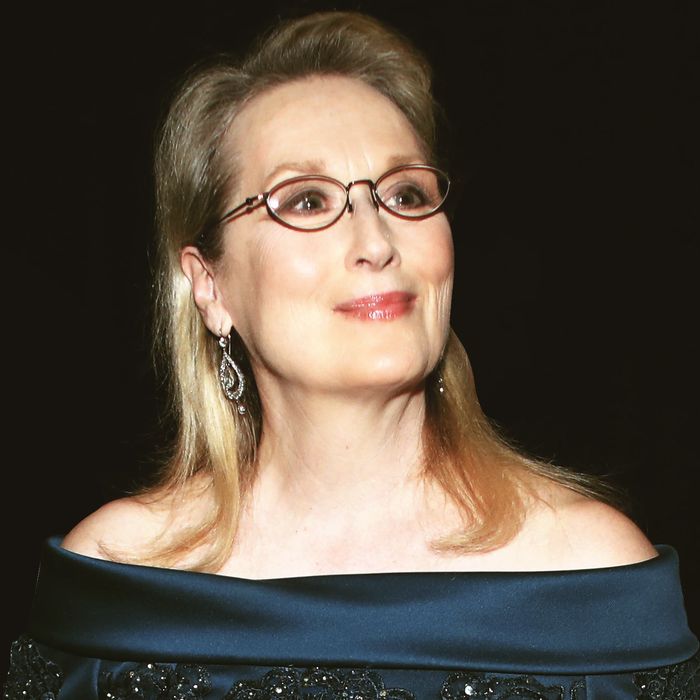 Meryl Streep.
Photo: Christopher Polk/Getty Images
Meryl Streep, three-time Oscar winner and newly minted 21-time nominee, is joining Nicole Kidman, Reese Witherspoon, and Laura Dern for the highly anticipated second season of HBO's Emmy-winning Big Little Lies. We don't know much about BLL season two at the moment, but we do know the following: Next year's Emmy race for Supporting Actress in a TV Movie or Miniseries is basically over, and Meryl will play a character named Mary Louise Wright, the mother of Perry (Alexander Skarsgård), Celeste's abusive husband who bit it at the end of the first season. According to Deadline, Mary Louise will arrive in Monterrey "concerned for the well-being of her grandchildren following her son Perry's death" and is "searching for answers."
The name of the character is also a clue that this role will be classic Streep. Why? Because Mary Louise is Meryl's real name. It was clearly written with her specifically in mind, and that alone has my head spinning with gorgeous, award-worthy possibilities. What kind of Meryl performance are we going to get, exactly? Let's imagine some scenarios.
The Devil Wears Prada Meryl
The cold and comic Meryl, à la The Devil Wears Prada, is a distinct possibility. Silver-haired and filthy rich, Ms. Mary Louise Wright would descend on Monterrey having just purchased a house that could eat Renata's for brunch, coldly summoning Celeste over for tea and a long, hard look in the goddamn eyes. After some off-the-cuff devastating insult about whatever Lisa Rinna sweater coat Celeste just bought off QVC, Mary Louise goes in for the kill. "Shame that you had to be there. To see it." Imagine her eyes. "To see the life leave his body."
"Mary Louise …" starts Celeste.
"That's all."  And then Nicole Kidman turns to sand.
The Hours Meryl
We could also get a more grounded Meryl, like her performance in The Hours, in which she shared a topline with Kidman, but no scenes. Maybe Perry's mother doesn't know the wealth he did, and she's just trying to keep it together. Maybe she's just a normal woman trying to adjust.
"I brought flowers. I didn't know which you liked," Mary Louise fumbles, a laugh away from a tear. "I know Perry liked —" she gasps, "— angelonias. Oh my God!" Suddenly, she's collapsed, and Celeste runs to her body, which is mostly affordable scarf.
"Mary Louise!" she exclaims, propelled by panic. Celeste takes her mother-in-law in her arms, holds her close, and strokes her cheek. They are two women lost. Without thinking, they kiss.
I'm not saying it will happen. I'm just saying it could happen. You know they're gonna push a love interest on us, so why not go for it?
Mamma Mia! Meryl
I doubt we'll get Mamma Mia! Meryl, but maybe! Let's make this thing into a musical! I can hear the duet between Zoë Kravitz's Bonnie and Mary Louise Wright now. It's called "I Birthed Him, You Killed Him (Ay Yay Yay!)" and there's a big dance number involving all the parents and faculty of Otter Bay Elementary. If you recall last season's Trivia Night, they are all extraordinary musical talents, so this does check out!
You know what? I just imagined Shailene Woodley trying to belt, and I want to bail on this last one. Let's not do that one, I think.
Unknown Meryl
To be honest, nobody knows the size of this role yet. Maybe it'll wind up being a one-episode stunt. But even if that is the case, we have to thank the gods of actressing for this moment, because they're allowing us the privilege of watching Meryl Streep, at the very least, deliver a monologue about how important children are in times of hardship and sadness. And then she'll teach the twins how to play violin.
I'm sorry, it's hard to stop once you start. Music of the Heart Meryl can go ahead and stay in Music of the Heart. That's where she's most effective, I think.