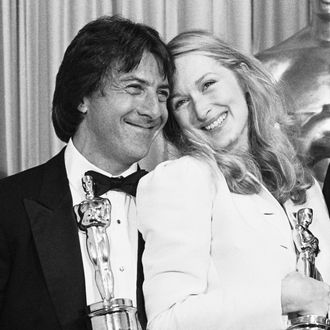 Dustin Hoffman and Meryl Streep.
Photo: Bettmann/Bettmann Archive
Meryl Streep has broken her silence on the sexual-harassment claims against her Kramer vs. Kramer co-star Dustin Hoffman. After the actor faced several allegations of sexual harassment and assault, an old interview with Streep made the rounds on the internet. In the resurfaced interview from 1979 with Time magazine, Streep said Hoffman grabbed her breast during their first meeting. A representative for Streep later said that Hoffman apologized and that Streep forgave him. Now, in an interview with the New York Times about the #MeToo movement and her new movie, The Post, Streep says that Hoffman overstepped in another way — by slapping her in their first scene together. The interview goes as follows:
Going back to your early days, people are wondering if you had problems with Dustin Hoffman, and your thoughts on the talk around him, to put it euphemistically. Did he slap you?




STREEP That was when we were making Kramer vs. Kramer. This is tricky because when you're an actor, you're in a scene, you have to feel free. I'm sure that I have inadvertently hurt people in physical scenes. But there's a certain amount of forgiveness in that. But this was my first movie, and it was my first take in my first movie, and he just slapped me. And you see it in the movie. It was overstepping. But I think those things are being corrected in this moment. And they're not politically corrected; they're fixed. They will be fixed, because people won't accept it anymore. So that's a good thing.
Streep goes on to say that she experienced sexual harassment when she was a younger actress in the industry. "Back in the day, when everybody was doing cocaine, there was a lot of [expletive] behavior that was inexcusable. But now that people are older, and more sober, there has to be forgiveness, and that's the way I feel about it," she said, declining to go into specifics. "I mean, I was really beaten up, but I don't want to ruin somebody's mature life. I just don't. I do think if the world is going to go on, we have to find out a way to work together, and know that it's better for men if they respect us deeply as equals."