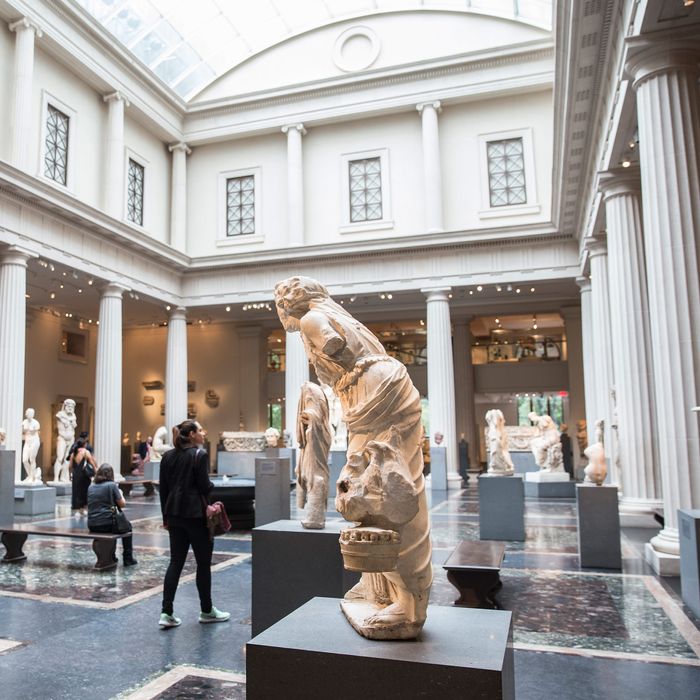 Photo: Manuel Romano/NurPhoto via Getty Images
The Metropolitan Museum of Art was open for business today, not just for visitors but for a last-minute press conference to announce a major policy change — the first since the resignation of its last director, Tom Campbell, led to questions about its financial stability.
The news? Beginning in March, for the first time since its "pay-as-you-wish" policy was set in 1970, the Met will charge mandatory admission— $25, which is currently the "suggested" fee — for all out-of-state visitors. Those guests will get tickets valid for three full days at the Met or its satellite museums, the Breuer and the Cloisters. New York state residents, who represent a little more than a third of all visitors, can still pay as or if they wish.
The wheels began turning on the policy change shortly after Campbell, who fell victim to a growing deficit fueled partly by his ambitious plan to build a new contemporary-art wing, resigned under pressure from the museum's board. His temporary replacement, then-CFO Daniel Weiss, was a former college president with a head for numbers. (The search for a permanent new director continues.) Weiss immediately set to work righting the financial ship.
After several city officials vouched for the new policy this morning (including city council member Keith Powers, making his first public appearance on his fourth day in office), Weiss gave a stat-heavy PowerPoint presentation explaining the change. Though a prior agreement with the city made its $29 million of annual support contingent on "pay as you wish" (and the museum only recently settled a lawsuit by changing "recommended" admissions to "suggested"), the government gamely renegotiated the terms. In return, the city will incrementally reduce its funding as revenues from admissions rise, but by no more than roughly $3 million. Weiss estimated the new policy will earn the museum between $6 million and $11 million more per year. Admissions, which topped 7 million for the second time in 2017, currently account for only 14 percent of the museum's operating budget; the new policy should get that up to 17 percent.
One journalist brought up the Met's recent budget crunch, and Weiss acknowledged it as a factor in the change. "But this is not a silver bullet," he said. "It does not allow the Met to sit back and relax." The high-seven-figure revenue increase will be "meaningful and important but not determining."
Besides, Weiss said, the pay-as-you-wish policy "was long overdue for a review." The Met is unique in the nation and possibly the world for being both barely funded by the government (8 percent) and completely reliant on voluntary entry fees. Meanwhile, visitors have become increasingly stingy over the last dozen years. In 2004, 63 percent of visitors paid the full suggested price; last year, 15 percent did. "Effectively the policy has been failing," Weiss said. "If we had the same rate today as in 2004, we would not be having this announcement."
Weiss neglected to mention that the Met's suggested admission in 2004 was $12. Perhaps lower payments forced the price hike. More likely, it was a matter of keeping up with private institutions like MoMA, which went up to a mandatory $20 in 2004, and being able to continue satisfying increasing visitor expectations. The city will happily pay up to $3 million less, and has promised the difference to underfunded institutions around the five boroughs. And per another figure on Weiss's PowerPoint deck: 80 percent of out-of-town visitors to the Met are in the city for several days, spending an average of $1,200 each. "We don't believe that visitors are not going to come to the institution because we're asking them to contribute their fair share to having this experience," said Weiss. In other words, pay up, cheapskates; you can afford it.