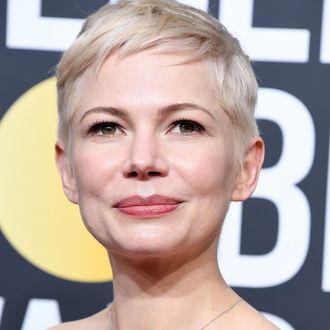 Michelle Williams.
Photo: Steve Granitz/WireImage
At the end of last week, Mark Wahlberg donated $1.5 million to the Time's Up Legal Defense Fund after it was reported that he made about 1,500 times more than his co-star Michelle Williams for the reshoots necessary to complete Ridley Scott's All the Money in the World. The donated amount — which he signed over in Williams's name — was equal to Wahlberg's paycheck for the extra filming days, a period of time in which his co-star made just about $1,000 in accumulated per diem fees. (William Morris Endeavor, the agency representing both actors, donated an additional $500,000 to the Fund.)
That seemed like a very nice end to a very frustrating situation, but it turns out the pay gap between Williams and Wahlberg started with each actor's base salary for All the Money. According to The Hollywood Reporter, Williams was paid $625,000 for her work while Wahlberg made $5 million. The two had roughly equal screen time in the movie, and Williams has been nominated for a Golden Globe for her performance. One could possibly argue that no one could have known ahead of time that Williams would deliver an awards-worthy performance in the film, but since she's been nominated for four Oscars over the last 12 years — which is two more than Wahlberg — it's safe to say you can bet on her bringing the prestige buzz to a picture.
The new information about Williams's paycheck came from a THR story about actresses starting to open up to each other about compensation in order to bring transparency to the negotiating process. In case you want to stay mad, here's another detail: In the same conversation where Williams's and Wahlberg's salaries were discussed, Tracee Ellis Ross shared that she is getting paid "significantly less" than her Black-ish co-star Anthony Anderson. It's definitely relevant that Anderson is an executive producer on the show and was involved with the show before Ross came on board. Season-five negotiations are currently ongoing, however, and Ross is reportedly considering cutting back her screen time to pursue guest roles on other shows if she cannot get a compensation package similar to her male co-star's. As actresses continue to open up more about their paychecks, expect more frustrating news like this to keep breaking.