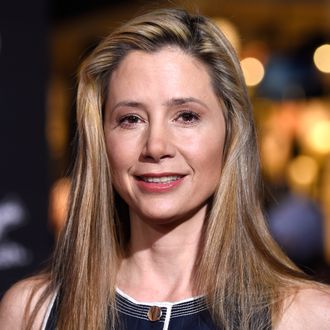 Mira Sorvino.
Photo: Frazer Harrison/Getty Images
Mira Sorvino, who starred in Woody Allen's 1995 comedy Mighty Aphrodite, wrote an open letter in the Huffington Post voicing her support for Dylan Farrow, Allen's estranged adopted daughter who has accused him of sexual abuse. In the letter Sorvino writes that she regrets letting her admiration for the filmmaker's work to influence her willingness to overlook Farrows claims for many years.
Sorvino addressed Farrow directly, writing:
I never personally experienced what has now been described as inappropriate behavior toward young girls. But this does not excuse my turning a blind eye to your story simply because I wanted desperately for it not to be so.




It is difficult to sever ties and denounce your heroes, your benefactors, whom you fondly admired and felt a debt of gratitude toward for your entire career's existence. To decide, although they may be fantastically talented and helped you enormously, that you believe they have done things for which there can be no excuse. But that is where we stand today.
In 1992, Dylan was 7 years old when she reportedly told her mother, Mia Farrow, that she was inappropriately sexually touched by Allen, Farrow's partner of 12 years. Though Allen has denied the allegations and was not criminally charged, a judge granted Mia Farrow full custody after finding Dylan's testimony credible in 1993. Dylan has maintained her allegations in recent essays.
Sorvino explains in her letter that she had "cherished" Allen's written work when she was a child and describes herself as being "in awe" of his films. She remembers herself in the mid '90s as a "naïve young actress" who accepted "the media's portrayal of [Dylan's] abuse allegations against [her] father as an outgrowth of a twisted custody battle between Mia Farrow and him."
In the past year, Sorvino spoke to journalist Ronan Farrow, Dylan's brother, on the record about her experience being sexually harassed by Harvey Weinstein. Her allegations appeared in Ronan's bombshell New Yorker exposé. In Sorvino's letter she says that it was her experience with coming forward that made her to want to finally read more about Dylan's experience.
"I send you love and inclusion and admiration for your courage all this time. I believe you!!!" Sorvino wrote to Farrow. She added that she had no intention of defending Allen moving forward:
 Even if you love someone, if you learn they may have committed these despicable acts, they must be exposed and condemned, and this exposure must have consequences. I will never work with him again.
In the past week, two other actors who worked with Allen, Greta Gerwig (To Rome With Love) and David Krumholtz (Wonder Wheel) have also expressed regret for working with the director.