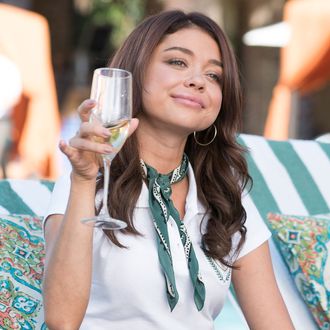 Photo: Richard Cartwright/ABC
Pritchetts just aren't cut out for the post-modern world. The co-creators of ABC's popular sitcom Modern Family, Steve Levitan and Christopher Lloyd, have confirmed they're intending to end the show with its upcoming tenth season. (The series is currently running through its ninth.) "Our plan is to end it at ten. If we can leave with most of our audience wanting more, I think that's the right way to do it," Levitan explained to The Hollywood Reporter. "Never say never, but I just can't imagine that we'd go past that." Another reason for the end-of-a-decade sendoff, THR notes, is because all of the actors' contracts come to an end then, and the network would have to negotiate "new, expensive deals" if they wanted to continue on.
Still, for all of you MF fans out there, a spinoff could potentially be in the works — although don't hold your breath. "It's just a little over a year and a half from now. We've got time to think about that," Lloyd said, noting he has some "loose ideas" on how he'd like the series to end. Interestingly, this is the second mega-popular sitcom that likely intends to end in the upcoming year. The Big Bang Theory will also be exiting television for good, if one of its stars is to be believed.