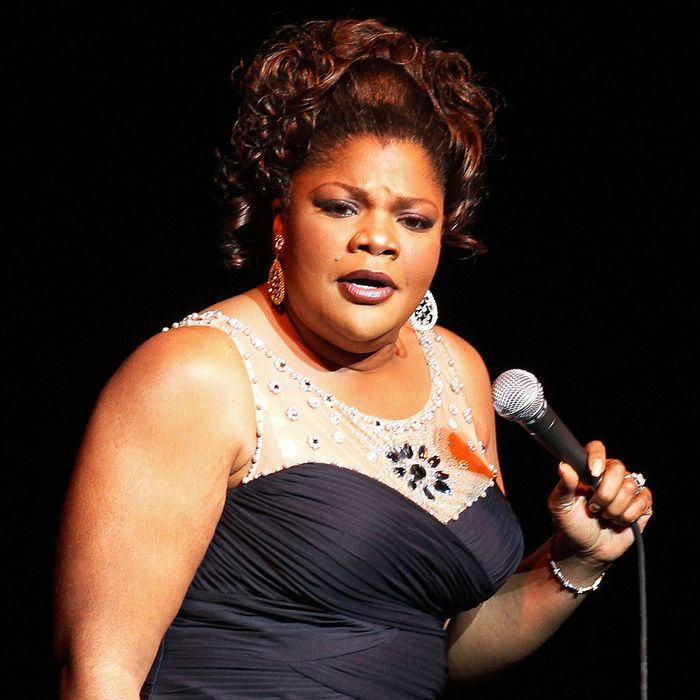 Mo'Nique.
Photo: Donna Ward/Getty Images
Earlier today, Mo'Nique posted a plea on Instagram to her fans, asking them to boycott Netflix because of gender and racial bias. In it, Mo'Nique tries to make the case for why she should get Amy Schumer, Chris Rock, Dave Chappelle money for her stand-up special, but, unintentionally, she also makes the case for why it's so hard to negotiate with Netflix in the first place.
In the Instagram video, Mo'Nique says Netflix offered her $500,000 for her next special, a number she found to be low, considering that Dave Chappelle and Chris Rock were each reportedly paid $20 million for theirs. She also points to Amy Schumer renegotiating her $11 million deal to get closer to Chappelle and Rock's pay. According to Mo'Nique, Netflix said the $500,000 is based on how many people they expected to watch the special. When the comedian brought up her résumé — Oscar winner, influential stand-up, etc. — Netflix said they don't pay performers for their résumés. However, when asked why they gave so much to Schumer, Netflix allegedly pointed to Schumer selling out Madison Square Garden and having a hit movie in Trainwreck. As Mo'Nique asks, isn't that just Schumer's résumé? Essentially, Mo'Nique argues, she's a legend, and Netflix pays legends millions.
Though, as Mo'Nique noted, Netflix thinks of her as a legend, it seems extremely unlikely that she'll get paid as much as Rock or Chappelle or even Schumer, largely because of all their relative positions going into the negotiation. When reached by Vulture, a spokesperson at Netflix responded, "Netflix does not comment on contract negotiations." Which shouldn't come as a surprise, as Netflix is especially secretive, even by the famously opaque standards of Hollywood. More than money, it's about data. When Showtime released Mo'Nique's 2007 special, I Coulda Been Your Cellmate!, Mo'Nique and her team would know how many people watched it. When it moved to Netflix recently, they no longer had that information, as Netflix doesn't share viewership data with talent. Netflix enters negotiations knowing exactly how many people watched the special, while Mo'nique does not. As elsewhere in the Peak TV landscape, the streaming service has all the leverage.
Further complicating matters is that, in Schumer's and Rock's cases, Netflix was in the position of luring them away from HBO, while Mo'Nique's last special, Something Different, was self-released on Amazon. And that gets to something I've been writing about for a while: With Netflix buying up such a large percentage of stand-up specials — often by paying more than everyone else — there aren't tons of other outlets for comedians to turn to if they think they're being lowballed by the streaming service. Showtime still does a handful, but HBO and Comedy Central only do a few. That's not great for talent like Mo'Nique. As one agent told Vulture, "She will be lucky if she can find anywhere else that will even pay her half of what Netflix was offering."