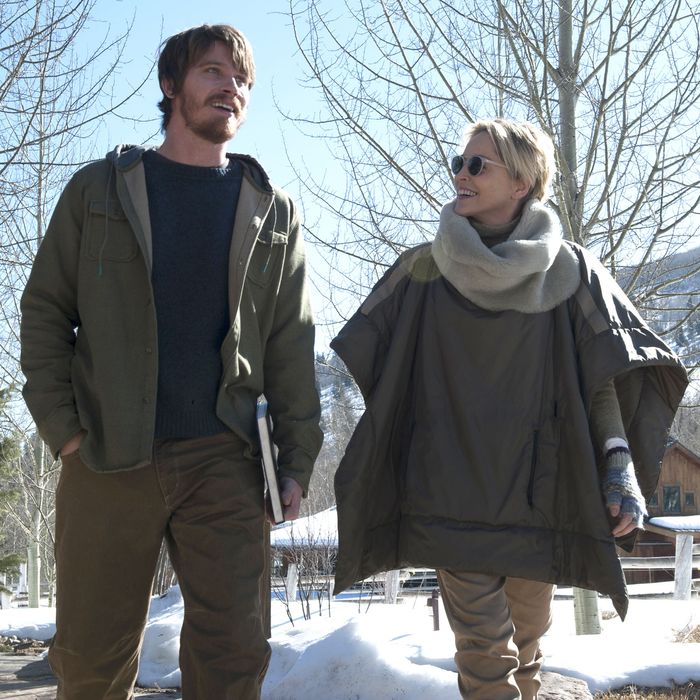 L-R: Garrett Hedlund and Sharon Stone in
Mosaic.
Photo: HBO
In Mosaic, the Steven Soderbergh–directed limited series about the events leading up to and following the murder of a children's author, practically every character possesses pieces of a puzzle they aren't quite sure how to put together. The guiding two-part question of this intriguing, sometimes frustrating mystery is, what did they know, and when did they know it? That applies not only to the men and women who exist in the fictional version of snowy Summit, Utah, envisioned by Soderbergh and writer Ed Solomon (both Now You See Me movies), but to the audience as well. By creating a Mosaic app that provides an alternative, vaguely Choose Your Own Adventure–esque way to experience the narrative, the minds behind this thriller — which debuts tonight on HBO and airs all week, concluding with a two-part broadcast on Friday — imply that viewers will and should interpret what they learn from their own perspectives.
The idea that the truth is a construct as opposed to something firm and undeniable is a timely premise for a series given how easy it has become for Americans to look at a blue sky and see something either purple or green. (Please see: #TrumpShutdown vs. #SchumerShutdown.) But Mosaic is not a political series, nor is it, at its core, something wildly new. It's a small-town murder mystery with multiple suspects, some fine performances, and the dimly lit, indie-style intimacy that is typical of Soderbergh's less Ocean's Eleven–ish work. It just happens to place as much importance on its blank spaces as the ones that are filled in fully. Your patience with that approach may vary.
Olivia Lake (Sharon Stone), a woman who wrote and illustrated a classic and apparently quite lucrative picture book called Whose Woods These Are, stands at the center of this maze. The owner of a massive amount of enviable property in this ski town, Olivia is also a narcissistic flirt who expresses interest first in bartender and aspiring artist Joel (Garrett Hedlund), who becomes a boarder on her compound, and, later, in Eric (Frederick Weller), an artist of the con variety who falls in genuine love with Olivia. After a New Year's Eve party that leads to explosive arguments with both men, Olivia disappears and eventually is found dead.
All of that, among other things, goes down in the first two episodes. The remaining four are about figuring out what actually occurred before and after the clock struck midnight, between Olivia and Eric, Olivia and Joel, and other characters who become increasingly central as the episodes progress. At any given point in Mosaic, it feels right to call a different person the protagonist. At first it's Olivia, but sometimes it's Joel and, in the culminating episodes, it feels more accurate to see this as a story about the key investigators of the crime: police chief Nate Henry (Devin Ratray) and Eric's sister Petra (Jennifer Ferrin), who comes to town to get to the bottom of things. That's the point. The hero or the antagonist of any story changes the more you know, or if you simply switch the angle from which you're peering into the picture.
Soderbergh has some subtle fun with changing angles, sometimes revisiting the same moment but flipping the frame so that the characters are on opposite ends from where they stood the first time. He paces things slowly and deliberately, as does Solomon, whose words carry greater weight if you go back to rewatch everything a second time. "Sometimes the best way to sound like you're telling the truth," Olivia's friend JC (a dryly funny Paul Reubens) tells her, "is to actually tell the truth." That's advice that a number of individuals in Mosaic refuse to heed, as well as a hint to those watching to take everything with a grain of salt.
The promotional push behind Mosaic has positioned Stone as its star, and as noted above, she does come across that way at first, not only because Olivia is so integral to what happens, but also because of the way Stone takes command of the role. With her glamorous, seductive, no-b.s. confidence, Olivia could easily pass as a not-so-distant cousin of Catherine Tramell, the sexually ferocious novelist Stone played in Basic Instinct. For the most part, Stone slips into the role as easily as she slides into the cream-colored silk blouses and fur-cuffed boots that are part of Olivia's wardrobe. But in some of the more dramatic scenes, particularly that pivotal episode-two fight between Olivia and Eric, her performance feels more showy than it should. Both she and Weller hit the same notes in that scene over and over, as if their fingers are stuck on the same piano key.
Mosaic doesn't really start to hum until episode three, at which point a parade of supporting actors — Ferrin, Allison Tolman as Eric's attorney, Beau Bridges as the ex-police chief — start to enter the picture more prominently. The two most outstanding performances come from Hedlund, who's grasping for a life preserver while struggling with memory loss and, possibly, another personality rattling around in his head, and, especially, Ratray, who is at times hard-nosed and at others completely vulnerable. There's an extended, unbroken scene that captures Nate having a panic attack as he considers the fact that multiple members of the community could be connected to Olivia's murder. The roller-coaster ride Ratray takes while sitting alone in his car is one of the best scenes in all of Mosaic. This series easily could have focused on Nate and been equally — actually, possibly more — interesting than it is.
A lot of questions in Mosaic are left unanswered. Some of them are, arguably, minor, such as: Seriously, how did Olivia get this rich from writing a single book? But some bigger ones are left wide open as well, which isn't particularly surprising since the underlying concept behind this show is, essentially, figure it out for yourself. Nevertheless, some viewers may be annoyed when the picture in the puzzle isn't quite crystal-clear by the end of episode six. Then again, for those who get to the end of Mosaic and find themselves craving more information, guess what? There's actually an app for that.