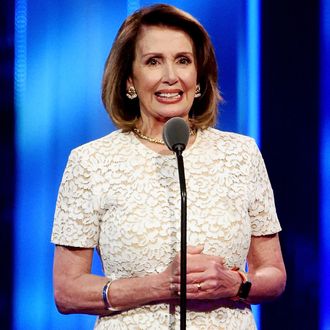 Nancy Pelosi.
Photo: Jamie McCarthy/Getty Images
Democrats are going to need to stay energized for the midterm elections, and apparently House Minority Leader Nancy Pelosi understands this, which is why she's starting her campaign off the right way — by going on RuPaul's Drag Race All Stars as a guest judge. A spokesman for the congresswoman told the Washington Post that Pelosi is a fan of the series, and chose in part to appear as guest judge to show support for LGBT community members who may be feeling alienated by the less-than-inclusive current president of the United States. Pelosi has apparently already taped her appearance, and her rep said, "She had a 'fabulous' time," which, how could she not? Drag Race is doubtless a lot more fun than typical work functions Pelosi attends in which people ceremoniously walk down aisles.
Other, less governmental guest judges from this season of All Stars include Vanessa Hudgens, Tituss Burgess, Kristin Chenoweth, Marc Jacobs, Shay Mitchell, Chris Colfer, Vanessa Williams, Adam Lambert, Constance Zimmer, Emma Bunton, Todrick Hall, Garcelle Beauvais, Jeffrey Bowyer-Chapman, and Nicole Byer.