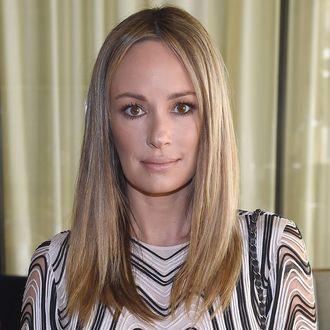 Catt Sadler.
Photo: Dimitrios Kambouris/Getty Images for Michael Kors
The heated words of Debra Messing, Eva Longoria, Sarah Jessica Parker, and Laura Dern on E!'s Golden Globes red carpet must have stung. The actresses spoke up about the departure of E! News correspondent, Catt Sadler, who announced last month she was leaving the network after a decade of work because of a "massive" pay gap between herself and her male co-host Jason Kennedy.
Questions about the salary disparity continued on Tuesday after a panel at the Television Critics Association semi-annual press tour in Los Angeles. Frances Berwick, president of Lifestyle Networks, issued a statement on the controversy. "There is a lot of misinformation out there," Berwick said. "Cat Saddler and Jason Kennedy had different roles and therefore different salaries. Cat was focused on daytime. Jason Kennedy is on prime evening news plus red carpet. Our employees' salaries are based on their roles and their expertise, regardless of gender. So we wish Cat well but I hope that sort of sets the record straight on that." Berwick oversees Bravo Media, E! Entertainment, Esquire Network, Oxygen Media and Sprout.