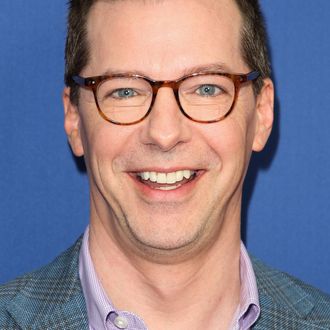 Photo: Paul Archuleta/FilmMagic
NBC just added four multi-cam comedy pilots – the first four comedy pilot orders of the 2018-2019 season. According to The Wrap, the network has given pilot orders to shows from Mike Schur, Sean Hayes, and Roseanne executive producer Tom Werner. First up is Schur's pilot Abby's, which follows "the titular unlicensed bar in San Diego, where the regulars enthusiastically enforce a unique set of rules that give them a sense of community and allow them to avoid the frustrating behavior found at other establishments." Schur will executive produce the pilot alongside David Miner and Josh Malmuth (Superstore, New Girl), who is also attached to write the pilot.
Next up are two pilots from Will & Grace star Sean Hayes. Written by Suzanne Martin (Hot in Cleveland, Will & Grace) and executive produced by Martin, Hayes, and Todd Milliner, Like Family centers on Aubrey and Artie, "who formed the tightest of sibling-like bonds growing up together in foster care, but are discovering that such closeness makes adulthood even more complicated." The second Hayes-produced pilot, So Close, follows "hopeless romantics Riley and Kyle who are at a crossroads in their separate lives. The two are close to settling for the wrong partner, unaware that they live only blocks apart and may be each other's soul mates." Milliner is also credited as an executive producer alongside Hayes and writer Greg Malins.
Finally, NBC has ordered a pilot written by Brian Gallivan (The McCarthys) called Friends-In-Law, which follows  "Brian and Jake, polar opposites who must quickly figure out how to coexist when their respective best friends decide to get married." Gallivan will also executive produce alongside Roseanne's Tom Werner.